---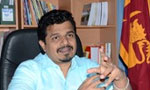 National Freedom Front MP and COPE member Weerakumara Dissanayake yesterday claimed he would release a report, which would hold all those responsible for the alleged bond scam if the official COPE Report was not released this week.
Addressing a media briefing, Mr. Dissanayake said that he would no longer follow the ethics of Parliament and the Committee On Public Enterprises (COPE) from next week if the COPE Report is not released in Parliament.
"All information regarding the controversial alleged bond scam in the Central Bank (CB) had been gathered and it is clear who should be held responsible. The COPE Report was to be released in Parliament last Tuesday, but it was purposely avoided by several parties," he added.
Mr. Dissanayake said if the COPE Report would not be released this week it would be postponed till next January according to Parliament schedule.
He said the bigwigs, who were involved in the alleged scam, had hired State officials to conceal the large scale thievery and added that the NFF would not let them to conceal it any longer.
"Fortunately, the Joint Opposition members were privileged to take up this issue in Parliament. But the majority of the COPE members are in favour of former Central Bank Governor Arjuna Mahendran, and they are not concerned about the country," he said.
He said the responsibility of the COPE members was just to question on matters that were risk to the country's economy and added that they were now doing its opposite by safeguarding Mr. Mahendran. (Kalathma Jayawardhane)
Video by Buddhi