---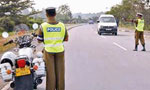 The Government had taken a decision to extend the time given to motorists to pay fines for traffic violations from 14 days to thirty to facilitate the delays when paying traffic fines, Police Traffic Chief (DIG) Amarasiri Senaratne said today.
According to the Motor Traffic Act 224, if a court date was specified for a traffic violation that does not end in an accident, damage caused to public property or injury, the amount of the fine should be mentioned and summons sent to the offender. The driver/rider could choose to pay the fine to the court registrar without having to appear in front of a judge.
"Discussions are presently under-way to implement the act," he said.
CCTV cameras are to be installed in all cities in a bid to curb crime and traffic offences.
In the past fines could not be charged from the original perpetrators of traffic offences that were caught on CCTV cameras due to vehicles not being registered to the present owners.
"Discussions were under-way to implement the new act. We are also discussing ways to circumvent the issue of under whom the registration of a vehicle has been done with the Department of Motor Traffic," DIG Senaratne said. (Chaturanga Pradeep)