---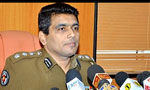 The disappearance of a youth in Hambantota after he was taken in along with two others, could be a result of a shortcoming on the part of the Police, Acting Police Spokesman SSP Ajith Rohana said today.
SSP Rohana, who attended the Cabinet briefing, said an investigation was being carried out to determine, what exactly had happened.
"There has been a shortcoming on the part of the Police as the records of the Tangalle Police had stated only two had been arrested over a theft, though three had been arrested," he said.
"Police personnel involved will be dealt with in accordance with the Establishment Code and the procedures pertaining to Police, if found they were involved in any unlawful act," he added.
He said the IGP had ordered to expedite investigations within days.
However, SSP Rohana said there was confusion on the incident, as the relatives of the youth had said he had disappeared, while the Policemen who arrested him had stated that the youth had escaped.
He said the Policemen who went on the operation to arrest the suspect, had gone in a private vehicle rather than going in a Police jeep.
"They are not bound to go in a Police vehicles on operations," he however said. (Yohan Perera)
Video by Amantha