---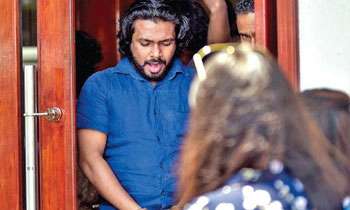 Minister Faiszer Musthapha yesterday vowed to work proactively and vigorously to secure the release of Lahiru Madushanka, a Sri Lankan man held in Maldives on charges of being part of an assassination plot on outgoing Maldivian President Abdullah Yameen Abdul Gayoom.
Minister Musthapha said Mr. Madushanka was a Sri Lankan job seeker, who went to Maldives in October, 2015 in the promise of employment but unfortunately he was arrested in Maldives for allegedly plotting to assassinate outgoing Maldivian President Gayoom.
"The Maldivian authorities suspected him to be a sniper who previously worked for the military. He was arrested in 2015, and is currently behind bars on account of a much prolonged trial. Mr. Madushanka has no access to his family or a lawyer up until now," he said.
He also said the Amnesty International issued a report, which included the present condition of Mr. Madushanka, claiming that he was being tortured.
"With the blessings of President Maithripala Sirisena, I met Maldivian President-Elect Ibrahim Mohamed Solih - Ibu. I also took up the case of Mr. Madushanka and discussed in depth the details of his case," he said.
"I informed Maldivian President-Elect Solih - Ibu that there is no record of Mr. Madushanka ever working for the military or any other security force. The evidence against him is insufficient to press further charges," he added.
He said Maldivian President-Elect had guaranteed to expedite the process and immediately grant a solution to the problem. (Kalathma Jayawardhane)