---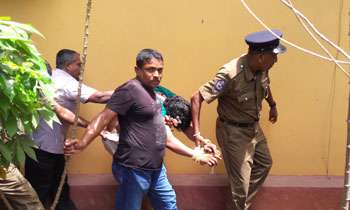 Chamara Indrajith, the main suspect arrested in connection with the Friday's armed gang robbery in Matara, was shot dead when he was attempting to hurl a hand grenade at police officers at Kirala Kale in Matara this morning.
Police Spokesman SP Ruwan Gunasekara said the suspect was taken to recover his hidden clothes bag at around 7.15 a. m today.
"He attempted to hurl the hand grenade which was inside the bag and was injured when a police officer shot at him. The suspect, who was a resident of Veyangoda, succumbed to injuries after he was hospitalised," SP Gunasekara said.
The suspect was arrested yesterday when a gang reportedly led by him attempted to rob a jewellery shop in Matara.
SP Gunasekara said the investigations had revealed that the suspect was wanted for several murders and robberies.
He was the main suspect of underworld figure Udammita Samare's killing.
In addition, the deceased suspect was wanted for the shooting incident at Attanagalle musical show in April 21 this year where an individual was shot dead and four others were injured.
He was also wanted for the killing of a 54-year-old woman and injuring her son in Veyangoda in May 21 this year. (Darshana Balasuriya)
Video by Buddhi