---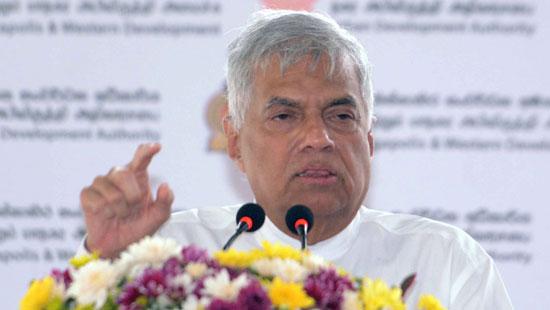 Some MPs associated with drug dealers were trying to block the police and judiciary from acting independently, thereby undermining the independent commissions set up under the 19th amendment to the constitution, Prime Minister Ranil Wickremesinghe said yesterday.
Mr. Wickremesinghe expressed these views at the opening of a multi-purpose building and a weekly fair in Bulathsinhala last evening.
"One must not think that the war against drugs is over with the arrest of Madush. There are others to take his place. The police must be encouraged to continue their war on drugs. However some MPs who were associated with drugs have begun verbally attacking and criticizing judicial officers. If the judiciary and police come to a standstill, the war against drugs comes to a standstill. We are facing a decisive moment now. We must decide whether we are going to safeguard the police and the judiciary and continue the war on drugs, or allow drug dealers to reign. We are ready to safeguard these institutions," Mr. Wickremesinghe said.
"Police operations against drug dealers gained strength due to the 19th amendment. The war against drugs will weaken if the independence of the police and judiciary is eroded," the PM added.
"I have asked the Foreign Minister of the UAE to help Sri Lanka investigate Madush. The Sri Lankan Ambassador also secretly helped to track Madush. Finally the police got the required information and large drug hauls were reported thereafter. These operations must be continued. Our police have got foreign training," he continued.
The Premier said that from 2010 to February this year 2402 kg of heroin were recovered. Some 600 kg of heroin were recovered from 2010 to 2015. However 1800 kg had been recovered from 2015 to February 2019, he said. He added that large quantities of cocaine were recovered mostly after 2006. He said 1887 kg of cocaine had been recovered since then, of which 1600 kg had been after 2015. "Drug operations were not carried out before 2015. Our government was also criticized for not carrying out anti-drug operations during the initial period. I asked the then Minister of Law and Order Sagala Ratnayake whether it was not possible for the police to carry out such operations. There were issues with the police. They said that such operations faced undue influence. They charged that anti-drug operations were almost halted due to such influence. If suspects were produced in court, the magistrates were influenced," the PM said.
"I told the police that the 19th amendment to the constitution had been enacted and there could not be any undue influence. I told them there was an independent judiciary. I told the police to inform me if any minister or MP in our government intervened to block their work. The police became dedicated after this. They became efficient and were strengthened. The anti-drug unit was amalgamated with the organized crime unit. This is how the police became efficient," he added. (Yohan Perera)