---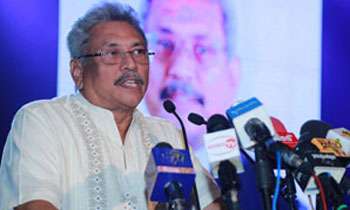 Former defence secretary Gotabaya Rajapaksa has said that they are continuing to discuss with professionals from all social spheres on how to carry forward the 'Mahinda Chinthanaya' based on current trends and developments.
He told a conference organised by the 'Eliya' Organisation at Kaduwela on Sunday that the views of professionals were important to resolve contentious issues and carry out development projects when a new government assumes office.
Mr. Rajapaksa said this government had misled the people and fed them with lies to win the previous elections but has no plans whatsoever for administering the country.
"It did not have a proper mechanism or a plan to administer the country when they took office. That is why the country is in turmoil today. The former government however, administered the country based on a set of principles under the Mahinda Chinthanaya," he said.
Mr. Rajapaksa said the stakeholders in the government should take the responsibility for the current economic crisis.
"We had plans to develop the ports and airports. This government stopped these projects. With the economic collapse, these projects have slowed down," Mr.Rajapaksa said.
He said all pillars of society including the security, law and order and the economy had collapsed during the 4-year tenure of the new government.
MPs Gamini Lokuge, Susil Premajayantha, Udaya Gammanpila and Wimal Weerawansa were present at the event. (Lahiru Pothmulla)