---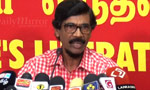 Northern Province Chief Minister C V Wigneswaran has started making radical, extremist statements because of his political bankruptcy, the Janatha Vimukthi Peramuna (JVP) charged today.
JVP General Secretary Tilvin Silva told a media briefing that Mr Wigneswaran has become politically bankrupt as the Northern people have rejected him. "The people of the North have rejected him as he has done nothing for them for the past few years. Therefore he is out to gain political mileage by making radical statements against the government, " Silva said.
He said the chief minister's call to keep the Sinhalese away from the North is unacceptable as every citizen has the right to settle in any part of the country no matter what ethnic group he or she belongs to. "What would happen if the Tamils living in the South are chased out?" he questioned.
Also he said citizens living in any part of the country have the right to construct places of worship in the areas they where they live. He made this remark in response to the chief minister's demand that Buddhist places of worship should be removed from the north.
The JVP General Secretary warned that the Northern Chief Minister, by his racist remarks was only providing fuel for radical extremists in the South to explore. "Just imagine what would happen to the country if radical extremists in both North and in the South become active" he added.
Video by RM and Amantha