---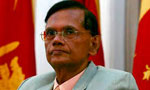 The joint opposition yesterday requested the Government to call for the people's approval regarding several actions taken by the it, including its response to the assault on Sri Lanka's High Commissioner Ibrahim Ansar in Kuala Lumpur on September 4.
Addressing a media briefing, joint opposition member and former minister Prof. G.L. Peiris said such incidents do not look good on Sri Lanka's resume, as the country's High Commissioner was a representative of the country's pride and independence.
"When the assault on the High Commissioner was reported, there was a special seminar going on in Malaysia at Britain Cambridge University with the participation of intercontinental professionals including ministers, professors and lawyers. They have noticed this incident and one of them said that he did not have words to explain what had taken place there," he added.
He said those professionals have also noticed that the High Commissioner was repeatedly beaten up by at least five persons. He also said such incidents had never taken place in the history of the country.
He said this sequence of events just goes to show how powerful the LTTE representatives were considering the seriousness of the assault on the High Commissioner. "The Government cannot go against these people as it was necessary for them to repay them for the favours the Tamils had done for them through their votes," he added.
He said the people's approval should also be called for the introducing of new bills including the Office of Missing Persons (OMP) Bill and the so-called reconciliation that was being planned.
He also urged the government to hold the local government elections immediately without offering lame excuses for not holding them.
"It is evident from the continuous postponing, that the Government is not keen on holding the local government election as they fear that they would be defeated," he added. (Kalathma Jayawardhane)