---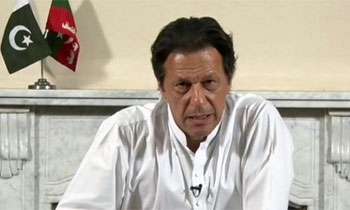 Pakistan cricket legend turned opposition stalwart Imran Khan claimed victory Thursday in the country's tense elections, following accusations of poll rigging by rival parties.
"We were successful and we were given a mandate," Khan said during a live broadcast.
"I came into politics because I wanted Pakistan to become the country that Jinnah had envisioned. This has been a historic election," said Khan in a televised speech in Islamabad, referring to the country's founding father.
"I want to thank Allah for this opportunity to serve the nation. Through its ups and downs; I am grateful for being given this chance," he said.
Khan, 65, campaigned on populist promises to build a "New Pakistan" and vowed to eradicate corruption, clean up the environment and construct an "Islamic welfare" state.
Khan's support from the Pakistan Army's and his support to Islamist voices have given rise to apprehensions that he would take a harder position on engagement with India than the Pakistan Muslim League-Nawaz.
He has been an outspoken critic of the US-led war in neighboring Afghanistan as well as China's massive investment in Pakistan, which has racked up millions of dollars in debt to Beijing.