---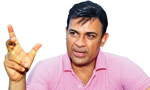 Deputy Minister Ranjan Ramanayake on Wednesday (21) said he had given a list that contains the names of several ministers and opposition MPs who were engaged in corrupt activities to the Bribery Commission.
Speaking during the debate on the motion to increase remuneration to the heads of independent commissions in Parliament, the Deputy Minister said he would continue to talk about these ministers and MPs.
"I will name these MPs even though their names are expunged from the Hansard. Expunging their names from the Hansard will not stop our message from reaching the people" he said.
"There are MPs who used to come to Parliament in taxis in the past but own helicopters and homes in Dubai," he said, adding that some members of Parliament even own apple orchards in Australia.
He also advised journalists who gather at the Bribery Commission to cover a story to be watchful as many government MPs who called over to be interrogated often slip out the back entrance without being noticed.
The MP said institutions that deals with corruption should be strengthened further as this would deter those who plan to rob public funds from engaging in such criminal acts.
Mr Ramanayake lauded some judges and criticized others. " Some judges surreptitiously grant bail to those who are corrupt in the middle of the night," he alleged. (Yohan Perera and Kelum Bandara)