---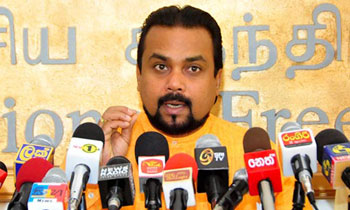 Prime Minister Ranil Wickremesinghe is now advising the media on how to carry photographs in their news articles, National Freedom Front Leader MP Wimal Weerawansa said yesterday.
While launching his book "Yadamin Bandi Akshara" at the Sambuddha Jayanthi Mandiraya in Colombo, he said the Prime Minister would not have responded in such a way to the statement made by the Karaka Sangha Sabha of the Malwathu and Asgiri chapters, and criticizes the media if he had even an iota of knowledge about culture.
He said the Prime Minister's query was how it became headlines in most newspapers of the statement by Karaka Sangha Sabha of the Malwathu and Asgiri chapters of rejecting the New Constitution and how it was published along with the photographs of the Mahanayake Theras of the Malwathu and Asgiri chapters when they were not even in the country.
"If it was like that, even Lord Buddha's picture cannot be published and should ask the PM before it is published. Just after the day that the Karaka Sangha Sabha news was published, the PM lashes at the media institutions that did so. I think some institutions that feared by his words published the following day that the Mahanayake Theras did not make such a comment, quoting the PM ".
Weerawansa asked whether the Premier belong to the Karaka Sangha Sabha to say that such statement was not issued by the Mahanayaka Theras.
The MP said politicians should understand the simple knowledge and understanding of culture and should maintain it further.
He further said there is a challenge before the entire society how to protect culture which had protected the country. (Thilanka Kanakarathna)