---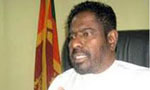 The hooting by the Joint Opposition supporters in front of the Sri Lanka Freedom Party (SLFP) headquarters during the Paada Yathra was an insult to their own party, Irrigation and Water Resources Management Minister Wijith Wijayamuni Zoysa said today.
Addressing a media briefing, the Minister said it was an unfortunate incident not only for the party members but also for the all the SLFP supporters in the country. He said the former President's response to this incident was not an excuse.
"The former President said that this hooting has been done by a group, who is not connected to them. It is not a justifiable clarification. There were many responsible Parliamentarians and including the former President at the time of the incident. Several young Parliamentarians including Namal Rajapaksa were also presented," he added.
The Minister questioned how would the Opposition govern a country, if it could not manage protest walk from Kandy to Colombo in a well behaved manner.
Meanwhile, he said President Maithripala Sirisena's silence and tolerant response for such ill-mannered incidents was not his weakness.
"He is silent in order to protect the unity in the party. His motive is to keep the party without any rifts," he added. (Kalathma Jayawardhane)
Video by Amantha