---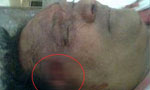 A photo of the late Bharatha Lakshman Premachandra, which shows a gunshot wound in the head, was posted on Facebook by his daughter UNP MP Hirunika Premachandra yesterday.
The photo has been taken on the day he was killed.
MP Premachandra said her intention of releasing the photo, was not to gain sympathy but to make the public aware of how a 'shot in the head' looked like.
"Every time I see this picture I don't think it's real, because I only remember his handsome face with a smile on," she said.
"For the first time in my life I am posting this picture. Not for your sympathy, but for you to understand this is how a 'shot in the head' looks like.
It's impossible to live even a second after a shot like this... something to think about," she has said in her Facebook post.
Last week, former MP Duminda Silva and four others were sentenced to death by the Colombo High Court over the 2011 killing of Mr. Premachandra and three others in Mulleriyawa.