---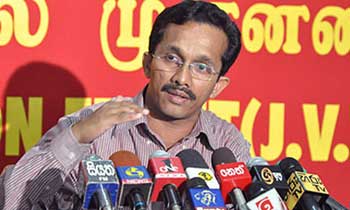 Chairman of the Committee on Public Enterprises (COPE) Sunil Handunnetti (JVP) said that there wouldn't have been a need to lease out Hambantota Harbour had the Government taken measures to recover the losses after a proper investigation on matters related to 58 institutions reported by the COPE during the last one-and-a-half year period of time.
"At 98 meetings during this period COPE was able to reveal instances of misappropriation of money and frauds in various Government institutions including Ceylon Petroleum Corporation, Ceylon Electricity Board, SriLankan Airlines, Maga Neguma, Telecommunication Regulatory Commission, the Foreign Employment Bureau, and the Ports," he said.
Had investigations been conducted and appropriate actions been taken to prevent and recover the losses incurred by these institutions that would have been sufficient to offset the amount that expected from the lease of Hambantota Harbour, he argued.
The Parliamentarian said that he had revealed these COPE findings at a meeting held at the Water's Edge, presided over by Speaker Karu Jayasuriya and with the participation of officials of the Auditor General's Department. (Dayaseeli Liyanage)