---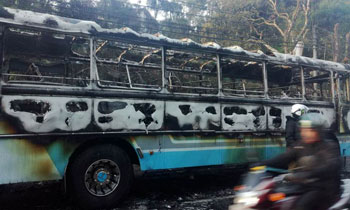 According to Government Senior Assistant Analyst W. A. Roshan Fernando the explosion that occurred in a private bus early on Wednesday (21) in Kahagolla Diyathalawa was a result of a live hand grenade going off, Bandarawela SP Sudath Masinha said.
Police learnt that the grenade had been in the possession of a Sergeant Major from the Kahagolla army camp which had gone off after it fell onto the floor of the bus when he tried to take it out of his pocket where he had hidden it.
Doctors said Sergeant Major was seated in the middle of a seat in the second row from the front right of the bus and had sustained injuries to both legs while a surgery was also performed to remove fragments from his abdomen after he tried to pick up the hand grenade he had dropped.
Nineteen injured passengers were admitted to the Diyathalawa Base Hospital among which were 7 army and 5 air force personnel along with 7 civilians. Two of the injured were said to be women, according to the police.
The Superintendent of the Diyathalawa Base Hospital Dr. Ranjith Amarakone said there were 14 injured persons receiving treatment in-house by Thursday (22) while the others were discharged. (Palitha Ariyawansa)