---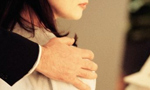 A 41-year-old Grama Niladhari was arrested by the Wanathavilluwa Police for allegedly seeking sexual favours from a woman in exchange for flood relief allocated by the government.
In a complaint to the Police, the 24-year-old woman, a resident of Ralmaduwa, Wanathawilluwa stated that the suspect had allegedly attempted to sexually abuse her on Tuesday (20).
According to the complaint, the suspect sought sexual favors from the woman on several occasion at her house and the office.
The suspect will be produced before the Puttlam District Court. (Jude Samantha)