---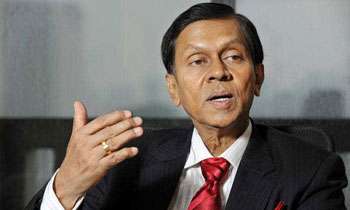 While claiming that the Government was attempting to find fault with former President Mahinda Rajapaksa, former CB Governor said they would never find any wrong doing of the former President.
He expressed these views at a news briefing held yesterday at the Western Province Aesthetic Resort where they launched a new organization called 'Voice for Justice' with the membership of former secretary to Prime Minister Sirisena Amarasekara, Dr. Nalaka Godahewa, Rohan Weliwita and several others.
Addressing the media, Former CB Governor Ajith Nivard Cabraal said the incumbent government was attempting to create some wrong allegations against the opponents of this government.
"We saw how Minister Rajitha Senaratne was saying that he has seen in a document which shows that there is US$ 80 billion in the account of Mahinda Rajapaksa. These are all false," Cabraal said.
"The Government wants to create a false ideology amongst the general public on certain individuals who have become a threat to this government," Cabraal added.
He further said the new organization mainly aims at becoming a voice against the organized political victimization that was widely taking placing in this country.
Meanwhile, Dr. Nalaka Godahewa said the underworld was on the rise and the government had been unable to tackle with this issue properly.
"It is clear that the police have been unable to control the underworld because the police have to work according to the whims and fancies of the political agendas," Dr. Godahewa said. (Sheain Fernandopulle)