---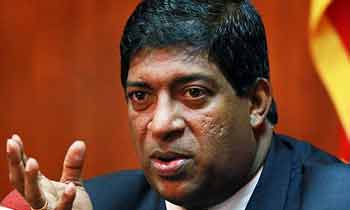 Several Sri Lankan Missions abroad including some of those in Europe would be closed down soon, Minister of Foreign Affairs Ravi Karunanayake said yesterday.
He was explaining the Government's plans to make changes in its diplomatic mechanism.
He said it would be done after assessing the performance and looking at the rationale behind keeping these missions.
Minister Karunanayake, who came up with this information at a media briefing yesterday morning said some Sri Lankan diplomatic missions in Europe would have to be closed down in the future.
"We will have to close down some missions as those have found to be of no use lately," the Minister said
He said performance of all diplomatic mission heads would be assessed before making a final decision.
"The Government has decided to go for commercial based diplomacy and link to the world through establishing commercial based diplomatic ties with various countries across the globe," he added
Further the minister said
"Heads of all Sri Lankan diplomatic missions have been called for a meeting with the President and the Prime Minister on September 4 to brief them about the new policy," he said.
He said three diplomatic heads had been already recalled.
However, the Minister refrained from divulging as who these mission heads were.
"We are not in a position to reveal the names of these diplomatic heads yet," he added.
Meanwhile, Mr. Karunanayake said only one person with vested interests was shouting against the Government's move to put the National Lotteries Board under his purview.
"They may be shouting as I managed to turn the National Lotteries Board into a profit making venture, which was hit by financial losses," he said.
"There have been instances where the Mahapola was under the Ministry of National Security during the time of late Lalith Athulathmudali and the National Lotteries Board was under the purview of Ministry of Science and Technology in the past.
"However a great din is made when the National Lotteries Board was placed under the purview of my Ministry," he added. (Yohan Perera)