---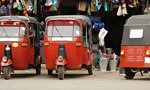 Government is to issue more than a million licenses for three wheelers across the country in order to regulate the service, Transport and Civil Aviation Deputy Minister Ashok Abesingha said.
He said that the licenses will be issued by the transport ministries of the relevant provincial councils. The provincial minister had already been consulted on the matter, he said.
Speaking to journalists at his office in Kurunegala, Abeysinghe stated that the number of three wheelers in the country has risen to over a million requiring regulation of the service.
"We have 6.3 million vehicles in our country of which 3.3 million are motorbikes, the number of tree wheelers is 1.05 million," he said and added that around 4.3 million out of 6.3 million vehicles in the country are always on the move.
Since around 65 per cent of vehicles plying the roads are motorbikes and three wheelers a regulatory process was needed, the Deputy Minister stated. (Pushpakumara Jayaratne)