---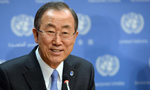 The Government will discuss the setting up of a Multi-Million Dollar 'Peace Building Fund' (PBF) for Sri Lanka, sponsored by the UN, during the UN Secretary General Ban Ki-moon's three-day visit to Sri Lanka, a senior Foreign Affairs Ministry source said yesterday.
Deputy Foreign Minister Harsha De Silva told Daily Mirror that the objective of the PBF was to ensure fast and flexible funding in support of various peace-building and reconciliation efforts in Sri Lanka
'This is the clear manifestation of the success of peace-building and reconciliation programme of the unity government and the acceptance by the global community that Sri Lanka is on the right track. If and when the UN approves and supports the government, it is a positive reflection that not only the international community but all global agencies under the UN and global financial institutions like the World Bank, IMF and the Asian development Bank are behind Sri Lanka, ready to help," Dr. De Silva said.
He said the visit of the UN chief would boost the Government's endeavour to meet Sustainable Development Goals.
The deputy minister said the attitudinal change among the world body, other global agencies and the international community from a hostile an invasive stance to an extremely friendly and cooperative one was a great achievement for Sri Lanka against the backdrop of a successful reconciliation and peace building programme.
"In that case, Sri Lanka is unique and a success story in a post conflict situation in any part of the world. That is why Mr. Ban has chosen Sri Lanka to pay an official visit at the tail end of his tenure in the UN," he said.
Mr. Ban-ki Moon is scheduled to arrive in Sri Lanka on Friday. He will be accompanied by his wife and a 20-member entourage.
He is scheduled to hold talks with President Maithripala Sirisena, Prime Minister Ranil Wickremesinghe and Foreign Affairs Minister Mangala Samaraweera.
Mr. Ban will also meet Speaker Karu Jayasuriya, Opposition Leader R. Sampanthan and Northern Province Chief Minister C.V. Wigneswaran. (Sandun A Jayasekera)