---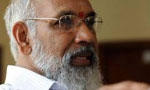 The government has decided to apprise the foreign diplomats in Colombo on the situation in the North in the wake of protests led by Northern Chief Minister C V Wigneswaran, informed government sources said.
The decision had been taken after government advisers expressed fears the Northern Chief Minister, by his actions, would provide fuel for the extremists in the South.
"Foreign diplomats will also be informed of reports which the government has received that Mr. Wigneswaran is working according to the agenda of Southern extremists," the sources added.
However the sources did not say when the campaign would begin. (Yohan Perera)