---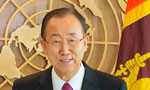 As the Joint Opposition condemned the statement that had been made by UN Secretary General Ban Ki-Moon that he has said there had been a massacre in Sri Lanka, the government argued that Mr. Ban had not made such a statement.
The argument came up in Parliament yesterday when the Joint Opposition moved an adjournment motion to condemn the statement issued by the UN Chief at the end of his Sri Lankan visit.
Joint Opposition MP Dinesh Gunawardane who moved the motion said the UN Chief had wrongly stated that there has been a massacre in Sri Lanka like the ones that had taken place in countries such as Rwanda and Srebrenica.
"There is a wrong impression that there has been an ethnic massacre in Sri Lanka" the MP said while highlighting that such a thing never took place in Sri Lanka.
"The efforts of the UN and the international community to intervene in Sri Lanka and the government's attitude towards such a move had resulted in Sri Lanka being pushed to a dangerous situation" he said.
MP Keheliya Rambukwella who stressed on the sentiments expressed by the UN chief at the seminar he addressed said the latter had clearly compared the situation in Rwanda and Srebrenica with the Sri Lankan situation. "A massacre did take place in Rwanda and Srebrenica but not in Sri Lanka" Mr. Rambukwella said.
Minister Mahinda Samarasinghe who responded said UN Chief never compared the situation in Rwanda with Sri Lanka. He said what Mr. Ki-moon said was that a worse situation occurred in Rwanda.
"I was at the event where Mr. Ki-moon made his speech and he never made a comparison. None of the Joint Opposition MPs who make allegations was present at that seminar," the Minister said.
Besides, he said the official statement issued by UN after its visit chief's visit to Sri Lanka had referred to Rwanda or Srebrenica. Mr. Samarasinghe assured that no foreign judges will be included in any of the probing mechanisms as long as President Maithripala Sirisena remains in office.
Acting Minister of Foreign Affairs Dr. Harsha De Silva also made similar sentiments. "We cannot help if the opposition MPs who make allegations cannot understand what Mr. Ki-moon had meant and it's not our problem," he said. He said one must note the positive things which Mr. Ki-moon had spoken of during his visits. (Yohan Perera and Kelum Bandara)