---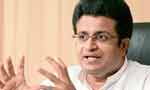 Opposition MP and Pivithuru Hela Urumaya general secretary, Udaya Gammanpila yesterday asked President Maithripala Sirisena to request the Indian government to recall its High Commissioner to Sri Lanka, Y.K. Sinha, for what he called 'interference in domestic affairs.'
He said this while criticising a statement made recently by Mr. Sinha that he was surprised by former president Mahinda Rajapaksa and the Joint Opposition's stance on the proposed Economic and Technology Cooperation Agreement (ETCA) between India and Sri Lanka. Mr. Sinha had taken a swipe at the joint opposition's Prof. G.L. Peiris saying that he should have stuck to his academic work rather than getting into politics.
Mr. Gammanpila said, Mr. R. Premadasa, when he was president, had got an Indian High Commissioner recalled for interfering in our internal affairs -- thus violating diplomatic norms. He said President Sirisena should do the same. He said people were waiting to see whether the present leadership had the guts to do so.
He said though Sri Lanka had a much smaller population than India, Sri Lankans comprised the greatest number of tourists to India. He warned India not to let the situation escalate to an extent that Sri Lankans boycotted Indian foods and stopped visiting India.
The Hindu reports:

Referring to reported observations of the former President and members of the Joint Opposition against the ETCA, Mr. Sinha, who did not mention the name of any Sri Lankan leader opposing the pact, told members of the Sri Lanka-India Society on Friday that he was "surprised" to come across Mr. Rajapaksa's statements in sections of the local press on the issue.

It was Mr. Rajapaksa's government that held negotiations with India over the Comprehensive Economic Partnership Agreement (CEPA), which had included "trade in services". He described as "quite amusing" the statements of members of the Joint Opposition, some of whom were ministers during the Rajapaksa regime, when the CEPA, he said, was negotiated.

Mr Sinha's response was in the context of views expressed in certain quarters that the proposed ETCA would deprive job opportunities for Sri Lankans in a host of fields, including information technology; and that the Free Trade Agreement, effective since March 2000, had not been beneficial to Sri Lanka.

Qualifying his rebuttal, the diplomat said, "I hesitate to get into the political controversy" but that he felt "constrained" to join the debate because "I do not think we should let naysayers take all the public space on this issue without anyone else trying to put the facts." (Piyumi Fonseka)