---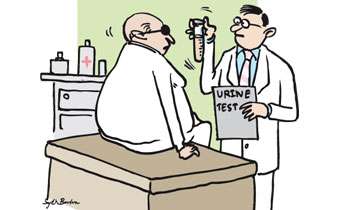 The Government Medical Officers' Association (GMOA) today urged all parliamentarians to test their urine for residues of the herbicide glyphosate in their system.
Addressing a press conference GMOA Secretary Dr. Haritha Aluthge said the Government should follow the precedent of the European Parliament which has called for glyphosate to be fully banned by 2022, amid fears the weed killer causes cancer.
The European Green party voted on a resolution objecting the commission's plans to re-approve the substance in Europe, after it was confirmed that over 150 EU parliamentary members tested positive for glyphosate.
He said that the first urine sample should be taken from Plantation Industries Minister Navin Dissanayake and for the sake of the country, the GMOA would bear the cost for testing all the samples.
The GMOA today criticized a gazette notification of the Registrar of Pesticides dated 11 July 2018, which lifted the ban on glyphosate for all crops throughout the country, stating it went beyond the original Cabinet decision to ban the herbicide.
Dr. Aluthge urged the President to reveal all individuals and multinational companies who were part of lifting the glyphosate ban.
The GMOA also called for the immediate resignation of the Registrar of Pesticides for his allegedly irresponsible and arbitrary decision.
In a separate note, GMOA Assistant Secretary Dr. Samantha Ananda said that the adjournment debate is to be held over the Singapore Free Trade Agreement (FTA) in Parliament tomorrow and all public representatives who love the country should oppose the FTA. (Thilanka Kanakarathna)