---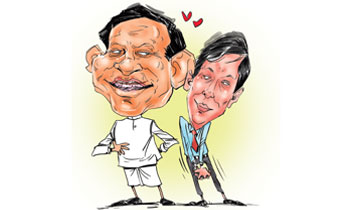 In a new twist the GMOA which had been previously highly critical of Health Minister Rajitha Senaratne, today lauded him saying the minister had committed himself towards granting their demands.
It said the Health Secretary Janaka Sugathadasa was told by the minister to approve all their demands.
The health authorities had agreed to grant nine of their demands including the release of annual duty free permits to the medical officers without any restriction.
GMOA Secretary Aluthge said the minister had permitted the revision of recent amendments to promotions and curtailed allowances to medical officers made by the Ministry. The curtailed mobile phone allowance of Rs.4,000 was also reinstated.
He said the demands would be sent to the National Salaries and Cadre Commission immediately with the minister directing that they be implemented as soon as possible.
Dr. Aluthge said that the minister had also accepted the GMOA's stance on SAITM.
Meanwhile GMOA Assistant Secretary Dr. Naveen de Soysa said the union had not made a deal with the minister in the process of achieving their demands and that GMOA President Anuruddha Padeniya did not have any intention to enter politics.
He said the GMOA always tried to avoid taking strike action to achieve their demands and would do so in the future if the minister continues to have a positive attitude towards the association.
Dr. Soysa warned that government servants should avoid clashing with a powerful association like the GMOA and the Health Secretary who earlier held a position in the Tourism Ministry should never attempt to play with patients' lives. (Thilanka Kanakarathna)