---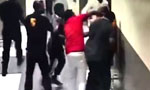 Five people, who were arrested for allegedly assaulting Sri Lanka's High Commissioner to Malaysia Ibrahim Ansar, have been remanded, Star Online said.
Selangor police chief Comm Datuk Abdul Samah Mat said the group, aged between 25 and 56, would be remanded until Wednesday to facilitate investigations over Sunday's incident at the Kuala Lumpur International Airport (KLIA).
"They were arrested at their homes between 5pm Sunday and 7pm yesterday (Tuesday). Three of them were detained in Sungai Siput, Perak; two in Rawang and one in Dengkil, Selangor. At the moment, we have identified at least four more suspects who we believe were involved in the commotion. A manhunt has since been launched," he said at the Petaling Jaya police headquarters monthly assembly on Tuesday.