---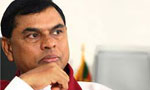 Some former SLFP pradeshiya sabha members in the Ratnapura district have urged former minister Basil Rajapaksa to form a new political party under former president Mahinda Rajapaksa's leadership because they had no intention of contesting the local government elections under an SLFP led by President Maithripala Sirisena.
Former PS chairman S. Karawita who is heading the group said this decision when they met on Aug.15.
This group is made up of 127 former members from 17 Pradeshiya Sabha in the Ratnapura District.
He said the new party would follow the Bandaranaike policies.
Mr. Karawita said only few former PS members had attended the interviews to select candidates for the local government election.
Mr. Karawita said the discussion was held under the patronage of Basil Rajapaksa.
Rathnapura District Parliamentarians Pavithradevi Wanniarachchi, T. Ranjith Soysa, Janaka Wakkumbura and Vasudewa Nanayakkara also attended the meeting.
The meeting was not open to the media. (Ajithlal Shantha Udaya)