---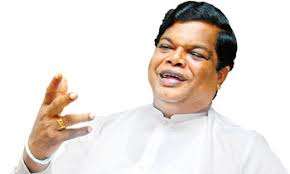 The drastic depreciation of the Sri Lankan rupee against the US Dollar has increased the country's national debt amount by Rs.1,000 billion since 2015, the Joint Opposition (JO) said today.
Addressing a news briefing, MP Bandula Gunawardane said Prime Minister Ranil Wickremesinghe continues to mislead the people by saying that the former government was responsible for current colossal amount of debts.
"I challenge the Prime Minister to prove his claim. The debt amount has increased because of deprecation of the rupee which is a result of the government's fiscal mismanagement. The national debt amount has increased by Rs.285 billion in 2015, Rs.187 billion in 2016 and Rs.225 billion in 2017 due to depreciation of the rupee. When all this is added on to the increased debt amount this year, the total increase in the debt amount will be close to Rs.1,000 billion. The Premier can issue a statement if these facts are false," he said.
He said the amount of all loans obtained to construct the Hambantota Port, the Mattala Airport, the Lotus Tower and the Akuregoda Defence Headquarters Complex was only Rs.300 billion.
In order to prevent the rupee from hitting 200 against the US Dollar, he said President Sirisena should immediately suspend the New Trade Policy of the Government.
"This New Trade Policy is the epitome of the liberal economic principles of the government. If this was suspended, at least the pace of depreciation of the rupee will slow down. During the Rajapaksa government, depreciation of the rupee was 2% per annum and under the current government it is 6% per annum," he said. (Lahiru Pothmulla)
Video by RM