---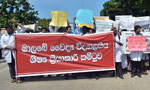 Controversy surrounds a letter purportedly sent by the Student Action Committee of the South Asian Institute of Technology and Medicine (SAITM) to the Government Medical Officers Association (GMOA) claiming that the SAITM had allegedly forced its students to sit for the professorial appointments without pre-professorial clinical rotations and forensic medicine.
GMOA Assistant Secretary of the GMOA Dr. Haritha Aluthge said at a media briefing held yesterday in Colombo that they received a letter from the SAITM Student Action Committee two weeks ago.
"According to their student guidelines, all pre-clinical subjects and all clinical rotations must be completed in order to be eligible to sit for the professorial appointments. But it is found that the 5th batch of the SAITM is going to start the professorial appointments, without completing their pre-professorial clinical rotations and forensic medicine. At the same time it is found that some students in the 3rd batch are continuing their professorial appointments without completing pre-clinical subjects," Dr. Aluthge said by reading the letter to the media.
However, when the Daily Mirror contacted the President of the student committee Prageeth Wimalachandra, he rejected sending such a letter to the GMOA though his name had been mentioned in the letter as the sender.
He told the Daily Mirror that the letter was a fake one. He also said they would look into the matter and take further action against the futile attempt.
The letter given by the GMOA has been dated October 10, 2016 which is yet to fall. Even the GMOA's Dr. Aluthge was unaware whether the letter was dated on 10.10.2016. (Piyumi Fonseka)