---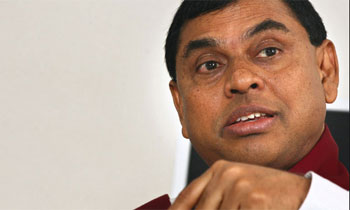 The Sri Lanka Podujana Peramuna (SLPP) said today it was confident of winning 225 to 250 Local Government (LG) bodies out of 341.
SLPP national organiser Basil Rajapaksa said the people who are disgruntled with the United National Party (UNP) should vote for the SLPP instead of any of the other parties.
"It is the SLPP and Mahinda Rajapaksa who are upholding Sri Lanka Freedom Party (SLFP) principles. We will continue to preserve them," he said.
Responding to UNP and SLFP threats that the government will withhold funds to LG bodies which were won by the SLPP, Mr. Rajapaksa said they could administer the LG bodies with their own revenue.
He said the government was attempting to handover the management of cemeteries and other entities which were under LG bodies, to private institutions.
"The UNP is asking to vote for them so that they could run the LG bodies the way they are running the government. Perhaps, they intend to rob banks at village level similar to the way they robbed the Central Bank," Mr. Rajapaksa said. (Lahiru Pothmulla)
Video by Sanjeewa