---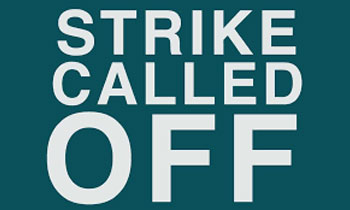 The indefinite strike launched by the Ceylon Petroleum Cooperation's (CPC) TU Collective was called off last evening to be resumed next Tuesday (1).
An official of the TU Collective said the decision was taken after a discussion held with President Maithripala Sirisena at the President's official residence.
"We received a positive response from the President during the meeting. He requested us to stop the Trade Union action and to come for another discussion next Tuesday. We agreed to call it off temporarily and give the government time till next Tuesday (1). We have requested our members to return to work," he said.
The work stoppage launched by the CPC employees took a new turn yesterday when the army took over operations at the Kolonnawa and Muthurajawela refineries to restore fuel distribution.
However, within 24-hours, the Army withdrew the additional soldiers deployed after a majority of employees returned to work last evening.
Army Spokesman Roshan Seneviratne said the decision was taken after the employees agreed to carry out their duties without a hitch.
"The special teams deployed for the control of the petroleum distribution have been recalled," he said.
The government was quick to issue a warning to the striking trade union employees urging them to return to work immediately. It said any employee who failed to return to work would be considered as having resigned his or her post.
With the army taking over operations, 15 fuel bowsers and a train transporting jet fuel was released from the refineries amid obstruction by striking employees, Brigadier Seneviratne said.
He said the Army had to take overthe fuel distribution last morning after the issuance of the Special Gazette notification which made the supply and distribution of fuel - including Petroleum Products and Gas - an essential service.
"The Army entered the Kolonnawa and Muthurajawela refinery premises together with the Police and discussed with the management to obtaining technical support from petroleum officials," Brig. Seneviratne said.
During the strike the protesters had blocked the main entrance to the Kolonnawa refinery with five bowsers with their tyres deflated.
He said those returning to work were prevented from doing so by those on strike.
Meanwhile, Welikada Police said they arrested 16 trade union leaders including CPC Trade Union Collective Media Spokesman Bandula Saman Kumara on charges of obstructing the distribution of fuel and the release of bowsers from the Kolonnawa refinery.
However, the suspects were later released on police bail.
Meanwhile, TU Collective Convener D. J. Rajakaruna said the Army forcibly entered the Kolonnawa and Muthurajawela refinery premises on Tuesday night and took over the distribution of fuel. "The Army assaulted the employees and chased them out of the gates, but we have not decided to call off our TU action," he said (Chaturanga Pradeep)
Video by Buddhi