---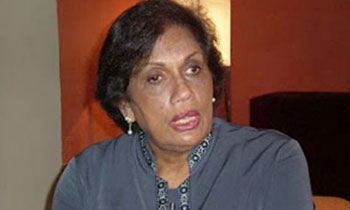 The Office for National Unity and Reconciliation (ONUR) today categorically denied the response by Military Spokesman Brig. Roshan Seneviratne that former president Chandrika Kumaratunga's statement about the army sexually exploiting Tamil women, would jeopardise the reconciliation process.
The ONUR said in a statement that Ms. Kumaratunge did not make a statement as alleged by him and at no point had she accused the military, as a whole, of sexual exploitation of women in the North.
"It appears that the news reports refer to a meeting Chandrika Bandaranaike Kumaratunga, Chairperson of ONUR, had with the Foreign Correspondents Association (FCA) in Sri Lanka. We are surprised that a senior Army official has not thought it fit to peruse and understand the news reports of a statement allegedly made by a former Head of State and Commander in Chief," the statement added.
"ONUR is an institution that is coming under the purview of the Commander in Chief, President and is chaired by Ms Kumaratunga. It would have been good practice and common courtesy for the Director – Media of Army Headquarters to seek clarifications from ONUR before rushing to issue a statement," it said.
"She further stated that ONUR has been made aware of the fact that there is sexual abuse still going on by officials, demanding favours even to sign a document, even some Tamil officials, some Grama Sevakas and some people in the forces, and this needs to be dealt with sternly," it said.
"It is ironic that the incidents of physical abuse referred in the statement by the Army are all incidents regarding which Her Excellency Chandrika Kumaratunga initiated action in her capacity as the Commander in Chief during the period up to 2005. It is also interesting to note that the Army Media Director's statement does not speak of a single incident of violence regarding which any action was instituted by the authorities after Madam Chandrika Kumaratunga's tenure of office," the statement said.