---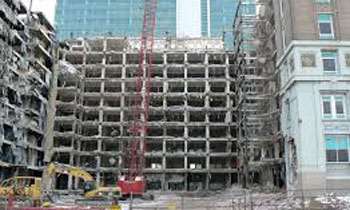 The buildings older than 25 years belonging to the State or private, should have to be demolished if they fail in the Detailed Structural Assessment (DSA) Report, Disaster Management Ministry Secretary N.A. Sisira Kumara said.
Speaking to the media yesterday at the ministry he said that most buildings were more than 25 years old.
"The decision was taken by the ministry following the recent building that collapsed in Colombo," he said.
"If the DSA report on such buildings were negative there are ways to strengthen them to make them suitable for living. If that also cannot be done we have to demolish it," he said.
He said a new law would be enacted in this regard in the near future.
"We have identified several buildings that need to be demolished along the coastal line. The decision had been taken for the safety of the people. This law is applicable to all Government and private buildings," Mr Sisira Kumara said.
Speaking at the briefing, Disaster Management State Minister Palitha Range Bandara said laws would be enacted to make it compulsory to obtain reports on agreements from the Disaster Management Centre, Divisional Secretary, Local Government Agents, Road Development Authority, Central Environment Authority, Govijana Seva Department and Agricultural Sectors following all the development in the country. (Chaturanga Samarawickrama)