---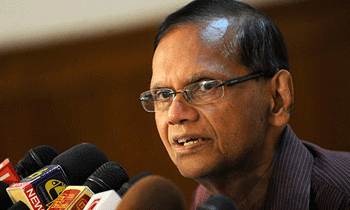 It said that there was no doubt that the minister should resign due to the nature of allegations levelled against him, but the responsibility for the scam should be taken by those who hold higher posts as well.
"Minister Karunanayake was removed as finance minister and appointed as the foreign minister by the President. That is not all, they readily gave him control over the National and Development Lotteries Boards as well. There is no rational basis for this allocation of subjects. No country has ever created a foreign ministry which handles lotteries boards," former external affairs minister G.L. Peiris told a news conference.
He said this development had created a difficult working situation at the ministry driving away its employees including Foreign Secretary Esala Weerakoon.
He said the no-confidence motion which would be brought against Minister Ravi Karunanayake would have the support of MPs from both the SLFP and UNP who were against corruption.
"The no-confidence motion will be a success and a slap in the face of the government. Karunanayake continuing to function as the foreign minister will only bring disgrace to the country. Therefore, his resignation is a must," he said.
However, Professor Peiris warned that any attempt by government higher-ups to shy away from taking responsibility for the scam, by making the foreign minister a scapegoat should be stopped. (Lahiru Pothmulla)
Video by Sanjeewa