---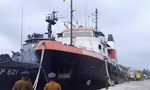 The Galle Chief Magistrate Nilupuli Lankapura today directed the CID to submit to Court on Oct. 5 the final report on its investigation into the Avant Garde controversy.
Further action was to be decided based on the report.
Meanwhile, Gennady Garvlov the Ukrainian Captain of Avant Garde was further remanded till September 30.
The Counsel who appeared for the Avant Garde Shipping Company said an order should be given regarding the ship without further delay because the ship was decaying and that repairs and maintenance was costing a huge amount of money.
The Navy took the ship into custody on October 13 last year after discovering weapons and ammunition onboard. (D.G.Sugathapala)