---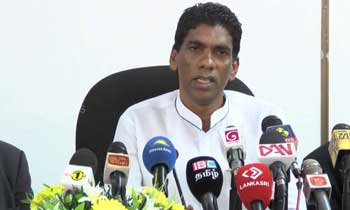 We will continue to support the Unity Government and protect it till 2020 even if the Sri Lanka Freedom Party (SLFP) decides to leave the alliance, the Tamil Progressive Alliance (TPA) led by Minister Mano Ganesan said today.
Addressing a press conference, TPA Deputy Leader Palani Thigambaram said that though some parties were keen on breaking up the present coalition the TPA would defend it to the end.
The minister said due to the financial liabilities left behind by the Rajapaksa regime, the present government had been unable to share the benefits of development with the public as yet, but they were confident that this would change for the better in the coming years.
He also said that their alliance believes that the government would not protect those accused of wrongdoings and that the law should be enforced equally to all citizens after impartial inquiries are conducted. "I don't know whether Foreign Minister Ravi Karunanayake is guilty of the charges brought against him. However if he has committed a crime we believe that even he should be punished under the good governance policy of this government," the minister said.
Meanwhile, commenting on the attack on the two policemen in Jaffna recently, he said one or two isolated incidents had been reported but they were not of a serious nature. He said under the present government there is no opportunity for terrorism to raise its ugly head again, therefore the people should not be unnecessarily afraid.
Minister Thigambaram also warned that some private media institutions were carrying out mud-slinging campaigns in the hopes of tarnishing his image. He said media freedom was a part of a vibrant society and it is also the responsibility of the media to carry unbiased news. (Thilanka Kanakarathna)
Video by RM