---
By D.B.S. Jeyaraj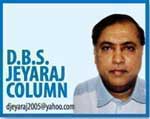 Tamil Nadu Chief Minister Jayalalithaa Jayaram who will be celebrating her 65th Birthday tomorrow February 24th is once again on the warpath against Sri Lanka.
According to Indian newspaper reports the actress turned politician has announced that Tamil Nadu would not host the 20th Asian Athletics Championships scheduled to be held in the State in July.

Ms. Jayalalithaa said her government has written to the AAA, seeking the exclusion of the Sri Lankan contingent from the event in view of the Sri Lankan government acting repeatedly against Tamils. The participation of Sri Lankan athletes would hurt the feelings of Tamils, she said.

She said, the Asian Athletics Association (AAA), Singapore, which conducts the championships, would be asked to conduct the event elsewhere and they had also been requested to intimate the State government's decision to Sri Lanka in an appropriate manner.

The Chief Minister has also recalled that she had ordered the return of Sri Lankan football players who were in Chennai for a friendly match in September last. In July and August, after she stoutly opposed training given to defence officials of Sri Lanka at the Air Force Station, Tambaram, near Chennai, and Defence Service Staff College, Wellington, in Nilgiris district, the officials were withdrawn from the training programmes.

The leader of the ruling All India Anna -Dravida Munnetra Kazhagham (ADMK) party also said she had written a number of letters to Prime Minister Manmohan Singh that no training should be given to Sri Lankan officials anywhere in the country including in Tamil Nadu.

Referring to a resolution adopted by the Tamil Nadu Legislative Assembly in 2011 demanding an economic embargo on Sri Lanka, Jayalalithaa reiterated this demand till Tamils in the country were fully and honourably rehabilitated and granted rights on par with the Sinhalese.

According to Indian media reports the Chief Minister called upon the Union government to work in tandem with other countries to ensure that those responsible for the war crimes were made to face an international trial. She said India should hold discussions with the U.S. and like-minded countries and draft a United Nations resolution against Sri Lanka.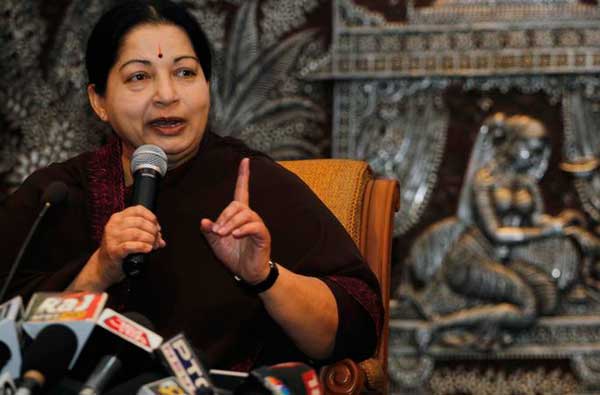 THE NOT VERY POPULAR 'BRAHMIN WOMAN'
OF THE PAST
There was a time when Jayalalithaa was perceived as being opposed to the political aspirations of the Sri Lankan Tamils in general and the activities of the Liberation Tigers of Tamil Eelam (LTTE) in particular. She was not very sympathetic even during the final stages of the war against the LTTE and casually dismissed the issue of civilian deaths saying such things were inevitable at times of war. Supporters of the LTTE loved to hate those describing her as "Paapaathi" (Brahmin woman).



PROTECTOR AND CHAMPION OF TAMILS
But all things have changed utterly now. She has in recent times changed her approach and projects herself as the benevolent protector and ardent champion of the Tamils of Sri Lanka.

The woman who was instrumental in getting the LTTE proscribed in India and got the Tamil Nadu legislature to pass a resolution demanding the arrest and extradition of Veluppillai Prabhakaran is now the darling of the LTTE and pro-LTTE elements in Tamil Nadu and abroad. Jayalalithaa is even being called "Thamih Eezha Annai" or mother of Tamil Eelam by tigerish sycophants in the Diaspora.

It is against this backdrop that Jayalalithaa's strident demands calling for stern action against Sri Lanka and her virulent opposition to official visits or ventures by Sri Lankans in Tamil Nadu has to be viewed. By adopting this intransigient stance she hopes to satisfy public opinion among the "Thamizhians" of the State concerned about the plight of their Tamil speaking kinsfolk in Sri Lanka.

Tamil Nadu the Indian state closest to Sri Lanka has spawned many colourful political personalities. Standing out among these figures is Jayalalithaa Jayaram, the actress-politico of Tamil Nadu born in 1948.Since she is very much in the news today vis-a-vis Sri Lanka and also because she will be turning Sixty-five on Sunday this Column intends to focus on her while drawing from earlier writings on the topic.



DREAM GIRL OF A BYGONE ERA
Looking at her rotund appearance today, few would imagine the time when Jayalalithaa was slim and lissom. That she was and a ravishing beauty too. As an actress, Jayalalithaa was the uncrowned queen of Tamil cinema during the mid-'60s to the mid-'70s of the last century, the dream girl of many a teenager and the favourite pin-up star of many fans.

Among those infatuated with the alluring actress was the famous actor-politician, M.G. Ramachandran (MGR), with whom she paired in nearly 30 films. Though unmarried, Jayalalithaa was regarded as the love of MGR's life. However, she has been linked romantically to other people including actors like Shoban Babu, Ravichandran, Jaishanker and Mutturaman .

Jayalalithaa was born on February 24, 1948 in Mysore in the Karnataka state. Many think she is a Kannadiga and her political rivals often call her that. The reality is that she is from a Tamil Aiyengar Brahmin family hailing from Sreerangam in Trichy. Her grandfather was a physician in the service of the Mysore Maharajah. Hence the family relocated to that state. Despite her detractors ridiculing her as a Kannadiga, Jayalalithaa has always been proud to assert her Tamil identity.

In 1970, long before she entered politics, Jayalalithaa told a Kannada journal that she was a Tamil and not a Kannadiga. This caused a furore in Karnataka. When Jayalalithaa was shooting for a Tamil film "Ganga Gowri" in Bangalore (now Bengalooru), a Kannadiga mob surrounded her and threatened to kill her if she did not retract. But the courageous Jayalalithaa refused to be intimidated and stood her ground, reiterating that she was Thamizhian and not a Kannadiga. Jayalalithaa's father Jayaram was an irresponsible wastrel who squandered the family fortune. This led to her mother, Vedavalli, becoming a film actress to support the family. She took on the name Sandhya and relocated to Chennai, or Madras, as it was known then.




KOMALAVALLI was her given name
Jayalalithaa's given name was Komalavalli, but her pet name is Ammu. Later when she entered the tinsel world Komalavalli adopted the nom de plume Jayalalithaa. Her name was spelled with one 'a' (Jayalalitha) at the end but later a second 'a' was added (Jayalalithaa) due to reasons of numerology. She learnt Bharatha Natyam and carnatic music and had her dance arangetram in 1960. Veteran actor Sivaji Ganesan who presided called her a "thangachilai," or golden statue, on account of her fair, glowing skin.

Ammu studied at the elite Bishop Cotton High School in Bangalore and later at the Church Park Convent in Madras. In 1964, she passed out second in the state matriculation exam and was given a merit scholarship. She did not pursue higher studies as her destiny was films. Veteran Film Director B.R. Bhanthulu saw her at a film function and got her to act in a Kannada film. The maestro Sreedhar gave her a break in Tamil films. She played the role of a schizophrenic widow in Vennira Aadai (White Dress) and got rave reviews.

Jayalalithaa's passport to success was her second Tamil film, Aayirathil Oruvan (one man in a 1,000) where she played leading lady to MGR. Despite the 32-year difference in age, the duo was a hot pair. They acted together in 28 films.

Among her successes were Adimai Penn, Naan, Maatukkaara Velan, Aathiparasakthi, Pattikaadaa Pattanamaa, Kavalkaran, Engiruntho Vanthaal, etc. Her last film was Nathiyai Thedi Vantha Kadal in 1978.

Jayalalithaa has acted in more than 100 films in Tamil, Telugu, Malayalam, Kannada, Hindi and even one English movie, The Epistle. More than 75 of these ran for more than 100 days in theatres. Eight were silver jubilee (25 weeks) hits.

She has also sung songs in her own creamy, croony voice, in some if not all films. Her first film song was Amma Endraal Anbu, written by Vaali and composed by K.V. Mahadevan. An accomplished dancer, she lit up the screen and stage by her performances. Her dance drama, "Kaviri Thantha Kalaichelvi", was a smashing success.
Thirumangalyam was Jayalalithaa's 100th film. There was a felicitation ceremony where the Chief Minister at the time, Muttuvel Karunanidhi, was the guest of honour. He praised her as one who had "devised literature in acting" ("Nadippukku ilakkiam vahuthavar").Though she played glamorous roles, she was a good actress and made an impression if given challenging roles with scope to display histrionic ability.



A VERSATILE LADY
She exuded chic and élan in her film career and was a favourite among teens of that era. She designed many of her costumes and was one of the first heroines in Tamil films to don bathing costumes and was a bombshell in bikini. Jayalalithaa was versatile. She has been a columnist, short story writer, novelist and film producer.
Her house, named Veda Nilaayam after her mother, is in Poes Garden. There is an indoor skating rink built there. She also has a grape arbour in Andhra Pradesh, which she uses to get away from the crowd. In recent times she bought an estate in Kodagu region where she retires frequently for extended periods neglecting politics.

It was MGR who brought her into politics. After entering politics Jayalalithaa became the ADMK's propaganda and later administrative secretary. She was Rajya Sabha MP in 1984. In 1989 she entered Tamil Nadu legislature as an elected MLA.

After MGR's death in 1987, the ADMK founded by Ramachandran split, with his wife Janaki and paramour Jayalalithaa leading the two factions. Jayalalithaa triumphed and the party united under her leadership to sweep the polls in 1991. She was elected Chief Minister. Jayalalithaa has been the Chief minister of Tamil Nadu from 1991 -96, 2001-2006 and currently from 2011 onwards. She remains the imperious yet undisputed leader of the ADMK today.

Few in her party dare to call her by name and so she is either "Amma," "Madam" or "Thalaivi." Since MGR was called "Puratchi Thalaiver," or revolutionary leader, Jayalalithaa is addressed by its feminine equivalent, "Puratchi Thalaivi." Like MGR, she too is called "Ithaya Deivam" (Goddess of the Heart).

Many in her party treat her as a living deity and at least one of her former ministers pats his cheeks reverentially when referring to her. Some ministers have gone on record saying their ambition in life is to be her servant or be a watchdog in her kennel.

There was a time when in a movie called Thanipiravi MGR played Lord Muruga and Jayalalithaa his consort Valli, in a dream sequence. A picture of both together as Murugan and Valli was framed and worshipped by many. Jayalalithaa has played divine roles in many other films and pictures of her in such roles are hung in many dwellings. Some people light camphor and lay flowers before them. Once Sycophants went to the extent of depicting her as the Madonna in posters. Enraged Catholics protested and the posters were removed.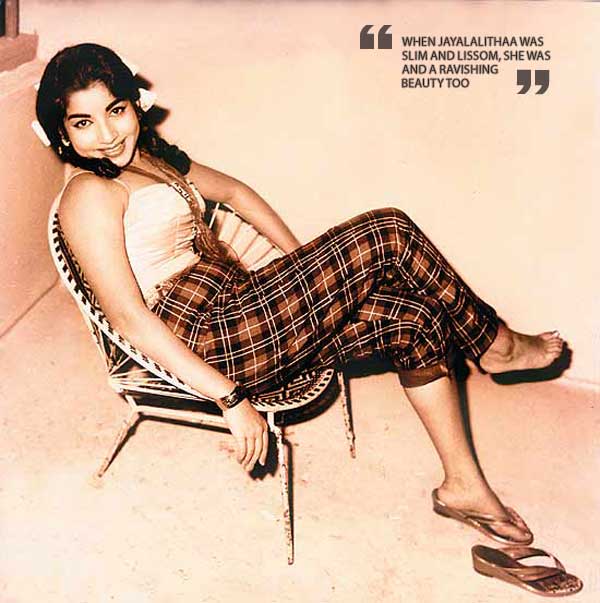 FOOT FETISH OF HER FOLLOWERS
Falling at her feet or touching them as a mark of respect is almost a ritual for many of her followers. Touching or falling at the feet of elders to seek their blessings is customary in India. But in the case of Jayalalithaa, ADMK sycophants have taken this practice to ridiculous levels. Even party veterans older than Jayalalithaa prostrate themselves publicly.

Once she was questioned by a North Indian journalist about this "falling at her feet" practice and asked why she did not put a stop to it, she replied that her supporters were doing so voluntarily due to their affectionate regard for her and that she was unable to prevent it.

This was not correct because it is well-known that she likes it and encourages it and Jayalalithaa also utilises this act to humiliate people.

In one instance a man who had left her party and criticised her returned to its folds again. The media was called in to witness the return of the prodigal. This man, K.K.S.R. Ramachandran, was a big-made man with a very big moustache. He was required to prostrate himself four times before a smilingly-seated Jayalalithaa under the pretext that the photographers had not got a good shot. The picture was released to all papers.

According to some observers, even her mentor and paramour MGR had some kind of a foot fetish for Jayalalithaa. In many of the films in which they acted together, there were scenes of MGR touching Jayalalithaa's feet such as removing a thorn from her sole or massaging a sprained ankle. Apparently the man who founded the ADMK had a fixation on her feet. Now members of MGR's party are at Jayalalithaa's feet, metaphorically and literally.

A funny phenomenon are the nauseating references to her feet by party men when commencing their speeches. In a disgusting spectacle they begin by paying homage to her "potpaadangal" (golden feet) or "thamaraithiruvadigal" (lotus feet).Like Imelda Marcos of the Philipines, Jayalalithaa herself had a fascination for footwear. There were media reports and pictures of her 800 plus shoes, sandals and slippers.



HER ARROGANCE IS AT TIMES DICTATORIAL
She is often criticised for her arrogance. She is virtually a dominatrix with party people and treats them like her minions and serfs and at times, Jayalalithaa would be the only person sitting on a stage while others would remain standing or seated on the floor.

Later she dispensed with this practice but allows only selected people to sit next to her. When a senior Minister, Munu Aathi, dared to sit next to her at a function, she flared up and publicly ordered him to move back.

On another occasion a Congress cabinet minister from Tamil Nadu tried to sit next to her on a flight to New Delhi. She shouted at him to get lost and referred derisively to his caste. The man was a Dalit. There was a big outcry and a public apology was demanded. She did not budge.

During inner meetings of the party she remained seated while the rest sat on the floor or remained standing. There have been press conferences where her ministers stood behind her with folded hands while she sat on a sofa. Nowadays she does not do that.

However there is no inner party democracy in the ADMK. Jayalalithaa appoints, removes, transfers, promotes, demotes, expels and recruits at her own discretion. Ministers are appointed, fired or shuffled according to her whims. Her wish is the party's command. None dares to disobey let alone defy. She is an autocrat who does not tolerate criticism. She looks down upon the media and brooks no dissent.

WHERE SHE IS CONCERNED – An ironic contradction to the norms of Tamil Nadu
While her haughty demeanour and arrogant attitude deserve to be condemned, there is perhaps a rationale for such behaviour. The ascendancy of Jayalalithaa in a Tamil Nadu milieu can be viewed as an ironic contradiction.
Despite the breeze of cosmopolitanism blowing in through globalisation, the state of Tamil Nadu is basically conservative. It is a patriarchal, male-dominated society with strict notions of a woman's role and place - Jayalalithaa is a woman.
Tamil Nadu society at large has contempt for women actors in the cine field who do not behave as 'good' women should. Woman film stars, in spite of their glamour, are not respected and regarded with disdain in private - Jayalalithaa was an actress.
The dominant political ideology in the state is that of Dravidianism. This is based on archaic concepts of the Aryan-Dravidian divide where the Brahmin community is seen as Aryans and other Tamils as Dravidians. Anti-Brahminism is a core element of Dravidian discourse - Jayalalithaa is a Brahmin.
Thus, one can see that the Jayalalithaa phenomenon goes against the grain of three dominant concepts in Tamil Nadu. She is a woman, a film star and a Brahmin. The success of this embodiment in the socio-political realm of Tamil Nadu is a contradiction. Jayalalithaa, in a way, is an exception or aberration.
In that context, the situation can be quite dicey for her. If she were to be democratic and easygoing, the people surrounding her would exploit it to their advantage. Instead of appreciating her conduct, they would very likely regard it as a weakness and take advantage. In later life she had her own set of bodyguards known as the "poonaipadai"(Cat force)to prevent supporters from getting close to her.



TO DEMAND REVERENCE – SEEMED TO BE THE NEED OF THE HOUR
When she entered politics, many party members were dazzled by her beauty and easy accessibility. They were extra-attentive to her and ever ready to make physical contact. A regional leader from Madurai called "Pazhakkadai" Pandi went ballistic once on stage. He was reprimanded by MGR. Thereafter the order went out from MGR that Jayalalithaa should be treated with reverence. This changed the situation. Soon party people showed great subservience to her. Slowly she was promoted as a superior, cult figure.

After MGR's death Jayalalithaa was quite vulnerable. It was then that she realised she had to assert unquestionable superiority over her party people to remain in control. Superiority and not equality was necessary. The followers had to be put in place as inferiors. This she began to do.

Soon she became an authoritative figure. She grew into her role and her inherent traits of arrogance came to the fore. She humiliated her followers to show who was boss and trampled them underfoot. Incredible as it may seem, they seem to like it, with even highly educated professionals paying pooja horizontally to the boss lady.
This state of affairs may help to understand the reasons for her arrogant conduct but it certainly cannot condone it. Moreover, there is a vicious, vindictive streak to her that often manifests itself in controversial ways.

There was a woman administrative officer (IAS), Chandralekha, with whom she had a disagreement. Soon acid was thrown by goondas on Chandralekha's face. As Chief Minister she abused her authority and incarcerated her rival, Karunanidhi. The Police carried the howling man away.
Due to a dispute with the Kachipuram "Sangara madam" Holy seer Sri Jayendra Swamigal, Jayalalithaa went to the extent of getting him arrested on what seemed to be false charges.

When maverick politico Dr. Subramaniam Swamy fell foul of her, Jayalalithaa organised a hostile reception for him in Chennai. Members of the ADMK Women's League raised their sarees in a protest demonstration. "Subramanian Swamy has met his waterloo," gloated Jayalalithaa publicly. "I will send Jayalalithaa to the loo without water," retorted Swamy.



HER WRATH TURNED TOWARDS 'VISHWAROOPAM'
Currently Tamil Nadu Actor and filmaker Kamal Haasan had to bear the brunt of Jayalalithaa"s vindictiveness when she manipulated Muslim political groups in the state to protest against the film "Vishwaroopam". Thereafter she imposed a two week ban on the film. The cause for this was her wrath against Kamal Haasan - She wanted to teach him a bitter lesson.



JAYALALITHAA – THE SOLITARY MOON AMONG LESSER STARS
Whatever her deficiencies, Jayalalithaa remains a towering figure in Tamil Nadu politics as her arch rival Karunanidhi is an octogenarian.
After his demise, there will be no one in the State to match Jayalalithaa in stature and popularity.
She will then very likely be the solitary moon among lesser stars in the Tamil Nadu political firmament.


(The Second and Final Part of Last week's article on the "Vishwaroopam"film issue will be continued in these columns next week-DBSJ)

DBS Jeyaraj can be reached at djeyaraj2005@yahoo.com

---
Add comment

Comments will be edited (grammar, spelling and slang) and authorized at the discretion of Daily Mirror online. The website also has the right not to publish selected comments.

---