---

Has E-Democarcy Arrived In SriLanka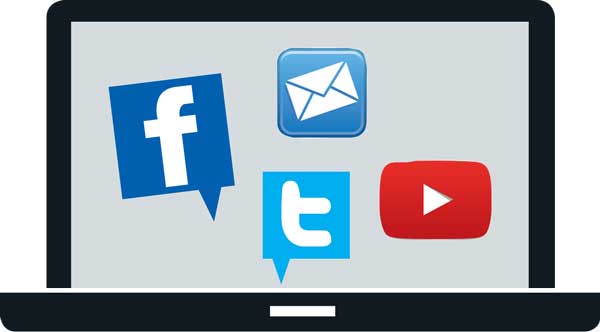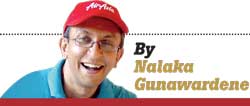 What role (if any) did social media play in the recently concluded General Elections on 17 August 2015?
Many are asking this question – and coming up with different answers. That is characteristic of the cyber realm: there is no single right answer when it comes to a multi-faceted and fast-evolving phenomenon like social media.
Shortly after the Presidential Election of 8 January 2015 ended, I called it Sri Lanka's first cyber election. That was based on my insights from over 20 years of watching and chronicling the gradual spread of information and communication technologies (ICT) in Sri Lanka and the resulting rise of an information society.
However, that was not the first time social media had figured in Lankan election campaigns. The trend started slowly some years ago, with a few tech-aware politicians and advertising agencies using websites, Facebook pages and twitter accounts for political outreach. However, these uses did not reach a 'critical mass' in the general and presidential elections held in 2010, or in the provincial and local government elections held thereafter.
By late 2014, that changed significantly but this time the front-runners were politically charged and digitally empowered citizens, not politicians or their support teams.
During weeks preceding the last Presidential election, hundreds of thousands of Lankans from all walks of life used social media to vent their frustrations, lampoon politicians, demand clarity on election manifestos, or simply share hopes for a better future. Most of them were not traditionally supporting any political party or candidate. They were just fed up with years of mega-corruption, nepotism and mal-governance.
Contrary to some claims (especially by the losers), that phenomenon was entirely home-grown and not externally driven. Whereas earlier generations of Lankans readily took to the streets in political demonstrations (or worse), today's more tech-savvy citizens seem to have opted to discuss, debate and clamour for political reforms using web-based tools and online platforms. The only 'outsiders' involved in these processes are the various Lankan diasporas and expat Lankans who have a legitimate connection.
So what do these newer forms of political expression and exchange mean for our society and polity as a whole?
Did inter-personal communications and myriads of open, public conversations in social media raise the level of public awareness of key political and policy issues relevant to this year's two elections? How much of this citizen awakening can be attributed to the fast spread of smartphones and broadband internet? Or were there other factors also at work?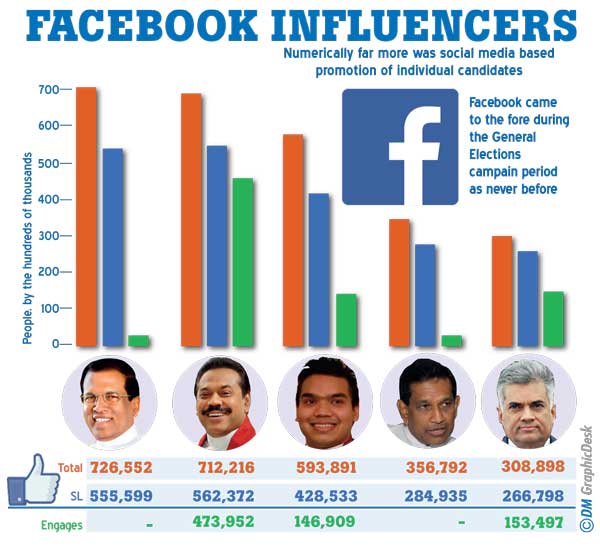 Even more importantly, could fleeting communications on social media really have influenced the voting choice of millions of men and women who 'walk­ed into those lit­tle booths, with a lit­tle pen­cil, mak­ing a lit­tle cross on a lit­tle bit of paper' both on January 8 and August 17?
We honestly don't know – yet. We are left with more questions than answers about exactly what sociological and psychological factors are at work in the nexus between electoral processes and social media use (hence the need for more social scientists to research this topic).


Politics online
Latest statistics indicate that one in four Lankans regularly uses the Internet. Facebook clearly dominates social media use: there were over 2.5 million accounts in Sri Lanka by end 2014. Among other locally popular platforms are Twitter (micro-blogging), Instagram (photo sharing), YouTube (video sharing) and instant messaging services such as Viber and WhatsApp.
From all indications, the twin elections have inspired a great deal of political discussion and content sharing in a multitude of social media platforms – notably on Facebook and Twitter.
This is not surprising, as we are a very politically conscious people.
We talk politics at every available opportunity. Everyone has a political opinion and, apparently, every second person has a favourite conspiracy theory too. We have been participating in elections for over 80 years, since universal adult franchise was introduced in 1931. We used to sack governments every few years, although it has happened less frequently in recent decades.
Extending our political fervour to cyberspace has opened up new opportunities for political party campaigning as well as civil society advocacy on democracy, good governance, clean candidates and the need to abide by election laws and regulations.
Just as important, social media enables Lankans living and working overseas to connect to conversations that are shaping the political future of their homeland. Given that an estimated 1 out of every 11 Lankans is based outside, this matters: even if they can't vote (yet), they can at least have their say. This really matters.
Given the extremely large number of voices, conversations and acts of sharing taking place in social media, no one can keep track of everything going on in social media. This is where common sorting devices and some statistical analyses become helpful. Public archiving of accessible social media content (i.e. not in closed conversations as often happens on Facebook) – as done by Groundviews.org – also preserves the raw material for future analysis by researchers (take this hint, all data crunchers!).
Many (but not all) social media interactions (especially on Twitter) during the general election campaign and immediate post-election periods used two common hashtags -- #GenElecSL and #SLGE15. This enabled easy aggregating which, in turn, enhanced sharing and interactions (i.e. even those who don't normally follow some individual accounts would get to see new content by simply following what is being posted with those hashtags).



Facebook Electioneering
Facebook came to the fore during #GenElecSL campaign period as never before.
For the first time, the Department of Elections itself engaged the social media. Shortly after nominations closed, it created a Facebook page named 'Tell Commissioner' where the public were invited to share complaints and evidence related to violations of the election law (www.facebook.com/groups/tellcommissioner/).
Some citizens engaged the Commissioner via text and/or images – not only highlighting apparent violations by political parties and candidates, but sometimes also by the media. In a refreshing departure from the typical public sector entity, the Department engaged these citizens – promising to investigate, then reporting on action taken, and in some cases clarifying that no laws or regulations were broken.
On election day, Facebook itself reminded all its users based in Sri Lanka of this event, and encouraged them to update their status messages around the election.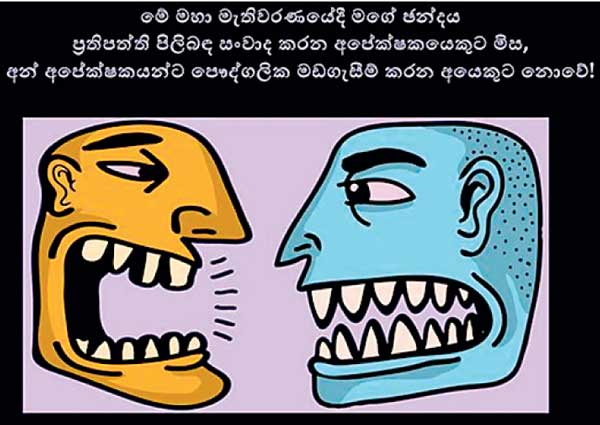 As cyber activist and researcher Sanjana Hathotuwa noted, "While opt-in (users could choose to ignore the Facebook prompt) this move by Facebook around voter mobilisation resulted in thousands updating their Facebook status to reflect the fact they were going to vote, had voted and various shades of political opinion."
Some citizen groups, meanwhile, used Facebook and other social media to encourage all registered voters (15,044,490) to turn up and cast their vote to a party or candidate of their choice. Groundviews.org and its sister websites had created a trilingual "I Will Vote" icon campaign in January, which was revived for the general elections. A new group of digital activists, calling themselves as "Hashtag Generation" released several creative memes urging everyone to perform their civic duty by voting. (In the end, voter turnout was 77.66% -- commendable, but less than that of the Presidential Election: 81.52%).
There were many other groups and individuals who used social media for spreading public interest messages during election time. Notable among them were the March 12 Movement for Clean Politicians (a broad alliance of many civil society groups), and the Vote Women campaign undertaken by several advocacy organisations. As the election result showed, neither campaign was too successful, indicating much unfinished business in building an inclusive and participatory governance system in Sri Lanka.



Facebook Influencers
Numerically far more was social media based promotion of individual candidates. This was undertaken by candidates themselves, their campaign teams as well as other well-wishers. Many more social media users also openly declared their voting preferences, political opinions and political opposition. This greater openness is probably a reflection that the fear psychosis prevailing during the last decade is giving way to a culture of argumentative debate.
In this intense cacophony, who stood out and whose social media brands were more influential?
Immediately after the general elections ended, Yudhanjaya Wijeratne -- who describes himself as a 'geek, blogger and wordslinger' -- did a quick analysis to discern key trends on Facebook and Twitter in relation to the election. In particular, he probed who were the biggest influencers during the campaigning period. So far, his is the only publicly available analysis (although several researchers and marketing companies are believed to have monitored the phenomenon).
The key to assessing social media influence -- as Yudhanjaya has done -- is to understand that it is not just a numbers game. A politician or activist or marketer who has a large number of followers does not necessarily influence if they have little or no engagement. To draw a rough analogy from the physical world, social media 'likes' are akin to fleeting crowds at political rallies, whereas engagement is more like candidates' house visits – harder, but ultimately more useful in branding and constituency building.
As Yudhanjaya says, "Engagement here is everything – clicks; post likes; post comments; shares; video plays."
Oh, and don't forget that social media likes and followers can be 'rented' in bulk from 'click-farms' in some countries. Thousands of likes or fans may give the (false) impression of popularity but it does little to enhance one's influence on social media. And influence is what really matters, especially during elections.
Yudhanjaya made these key observations on Facebook during the August general elections, viz:
Far more than political party pages, politicians' personal pages show the biggest presence on Facebook.
The top two on the list -- Maithripala Sirisena (726,552 likes) and Mahinda Rajapaksa (712,216 likes) -- had roughly similar amounts of total likes and Sri Lankan likes (both above 75%).
nWhen it came to engagement (during the week prior to the election), most politicians with high numbers of 'likes' did not figure prominently. The top five political accounts that engaged the most on Facebook were: Mahinda Rajapaksa (473,952 accounts engaged), Ranjan Ramanayake (405,169), Anura Kumara Dissanayake (239,490), UPFA – A Brighter Future (188,703) and Ranil Wickremesinghe (153,497).
"It's startling to see that One Shot (a screen name for actor-turned-politician Ramanayake), pre-election, was garnering a lot more attention than President Maithripala Sirisena: he's clearly playing a much better social media game," notes Yudhanjaya.
President Sirisena, whose likes are on par with Rajapaksa, was nowhere near the top when it came to engagement. Yudhanjaya speculates that since the President wasn't contesting in this election, "he chose to stay away and not stir the fires". [Full analysis is at: http://icaruswept.com/2015/08/19/mapping-election-influence-on-social-media-part-two-facebook/]


Tweet, Tweet!
Sri Lanka's regular Twitter user base is still small, probably under 50,000. But a growing number of political, business and academic leaders have joined – if only to use it as a listening post.
Over eight weeks in July – August 2015, Groundviews archived all tweets tagged with either #SLGE15 or #GenElecSL. Once a week throughout that period, these archives were released over Twitter for anyone to browse through or download [from http://groundviews.org/2015/08/20/archives-of-general-election-2015-slge15-genelecsl/]
On the Morning After (18 August 2015), as the official results were coming in, Groundviews editor Sanjana Hathotuwa noticed how both hashtags generated unprecedented volumes of social media traffic. #SLGE15 at around 7.30am was peaking at around 9 tweets a minute, and #GenElecSL at around 24 tweets a minute.
Says Sanjana: "As long as Groundviews has archived public tweets around events in Sri Lanka (Twitter Q&A, UN debates, elections) this was the most amount of tweets ever published in the same span of time."
My guess is that most of the over 300,000 tweets with either #GenElecSL or #SLGE15 were generated not by election candidates or their campaigners or political parties, but by others – principally by a few cyber-savvy mainstream media journalists and hordes of citizen journalists or politically charged activists. I was among them.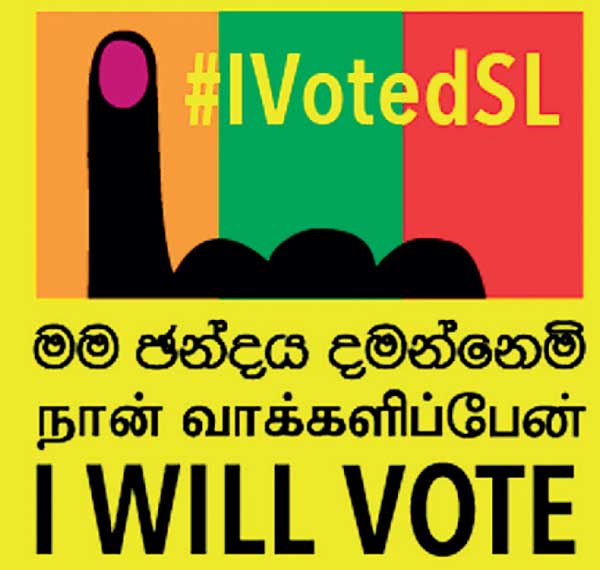 The two politicians who consistently showed up on both Twitter and Facebook analyses by Yudhanjaya Wijeratne are Maithripala Sirisena and Mahinda Rajapaksa.
As Yudhanjaya explains, "This is to be expected – in a sense, this election is still a continuation of debate between the ethos and values espoused by these two political behemoths. We saw many others rise to the social media game – what was basically a case of Maithripala + Ranil vs The Rajapaksa Clan and Assorted UPFA pages dissolved into a horde of individual politicians screaming for attention – but nevertheless, a sizeable fraction of the biggest influencers this time around were also the same people from the January 8th election. ."
Yudhanjaya's analysis found, among other things, that many election related Twitter conversations were taking place among a relatively small number of users (6184 conversations among 1774 people), and journalists and media-affiliated accounts, seem to wield substantial influence in this sphere.
In his top 10 Twitter influencers during #GenElecSL, there are five such accounts (@nalakag@; Groundviews; @dinouk_c; @azzamameen; an @dmbreakingnews). The balance are: @upfasl; @srilankatweet; @rw_unp; @maithripalas; and @presrajapaksa
[Full analysis at: http://icaruswept.com/2015/08/17/the-general-election-on-social-media-part-one-twitter/]


Arise, Netizens of Lanka!
In my writing, I have been raising questions like these: Can political parties afford to not engage 25% of Lankan population now regularly using the web? When would election campaigners – rooted in the legacy media's practice of controlling and fine-tuning messages – come to terms with the unpredictable and sometimes unruly nature of social media? A smart politician (may their tribe increase!) would have a presence in each key social media platform – not only during election times, but for regular engagement with constituents and other citizens. And to be counted, they must engage in them as widely as possible.
While politicians, their parties and paid advertising agencies struggle to find their niches on social media, as politically conscious citizens we need to up our game too. As more politicians and marketers crowd social media spaces, the need for enlightened and innovative use of social media in the public interest is greater than ever.
Every citizen, activist and advocacy group can play their own part in this never-ending contest between progressive politics and the unworthy acquiescence to feudalism and fanaticism.
Science writer Nalaka Gunawardene has been chronicling and analysing the rise of new media in Sri Lanka since the early 1990s. He is active on Twitter @NalakaG and blogs at http://nalakagunawardene.com
---
Add comment

Comments will be edited (grammar, spelling and slang) and authorized at the discretion of Daily Mirror online. The website also has the right not to publish selected comments.

---