---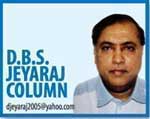 By D.B.S.JEYARAJ

When news of the loss of a loved one is heard, it is the practice of many Muslims to console each other by repeating part of a verse from the Holy Quran "Inna lillahi wa inna ilayhi raji'un"meaning "Surely we belong to God and to Him shall we return".The phrase is commonly translated as "Verily we belong to God, and to God we return."

Abu Musa Abd –Allah ibn Qays al-Ashari better known as Abu Musa al-Ashari , a companion of Prophet Muhammad and a prominent personality figuring in early Islamic history has stated that the Prophet had explained the significance of this line in the following manner – "When a son of a servant of Allah dies, Allah Says to the angels, 'Have you taken the son of My servant?' They say, 'Yes.' Then Allah Says, 'Have you taken the fruit of his heart?' They say, 'Yes.' Allah Says, "What has My servant said?' They say, 'He has praised You and said, To Allah we belong and to Him is our return'. Then Allah Says, 'Build a house for My servant in Paradise and call it the house of praise.'

The philosophical importance of the above mentioned line has struck me greatly whenever I interact with my Muslim friends at times of grief caused by bereavement and hear the words being repeated to each other. This has some resonance with a few Biblical verses too but I don't want to make comparisons here.

Why I referred to these lines from the Holy Quran now was because I have been reading numerous references to them ever since the news of the execution of Rizana Nafeek became known. Websites run by Muslim friends are replete with references to these words as people cope with the tragic news of Rizana's death.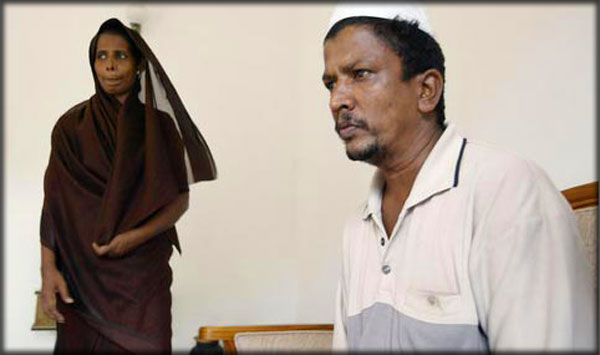 " Suddenly something went terribly wrong. Milk started oozing out of the baby's mouth and nose.It's eyes were shut. Young Rizana without any training in child care thought first that the baby was sleeping. After a while she realized something was wrong and tried to wake the child but the baby's eye lids remained shut "

The sorrowful death in Saudi Arabia of this young housemaid from Moothoor in Eastern Sri Lanka has touched and troubled the hearts of many including this writer. Although death and loss on a large scale is something the people of Sri Lanka have experienced much, this solitary death by execution of this young girl from an impoverished family in the rural area of Moothoor has impacted hugely on the collective consciousness of the nation..

Almost everyone who heard the sad story of Rizana wanted her to be released and return safely to her homeland. This however has not happened and even her body has been buried on Saudi soil. The pathetic plight of this poor girl and the utter helplessness felt by many in being unable to liberate Rizana from her wretched fate has caused deep sorrow and widespread grief. The mood is that of Pathos.

MOOTHOOR
Rizana Nafeeq is from Moothoor also called Mutur in the Trincomalee district of Sri Lanka's Eastern province. It means old or ancient village.The name Rizana means "to pray".Her father Mohammed Nafeeq was a sick man and unable to work for long hours at a stretch. He was a wood cutter, a profession requiring good physical health. To supplement their income the impoverished family used to gather firewood from nearby shrub jungles and sell them. The mother Razeena Nafeeq also did menial jobs in other households.

The Nafeeq family lived in Shafi Nagar , a low income colony in Moothoor. Their dwelling consisted of a hut and shed.Rizana was the eldest in a family of four children of whom three were girls. Given her family's poverty Rizana felt that the only way out for the Nafeeq family was for her to seek employment in a middle –eastern country.

Despite their reluctance to send their eldest daughter abroad for employment the destitute circumstances of the family made the parents agree. An employment agency operative named Badurdeen was approached. An initial payment was given to him for securing a job in oil – rich Saudi Arabia. The family borrowed from relatives and friends to make this payment. Rizana pledged to gradually return the money as well as pay the remainder of the Agent's fees after commencing work .

The employment agent had an opening for jobs as housemaids and nannies in Saudi Arabia. Usually both jobs are classified separately in Saudi Arabia though in some instances both types of work are done by one person. There was however a hitch. Rizana was under 18. Her birthday was on February 2nd 1988.

The Agent Badurdeen however circumvented that "problem" by forging her birthcertificate and "increasing" her age.Rizana's new birthdate in her passport was February 2nd 1982. A job was obtained for her as housemaid . She knew neither Arabic nor English and was fluent only in Tamil. Yet this did not deter her from venturing out as she wanted to help lift the family out of poverty.But a cruel fate was to decree otherwise.

DHAWADHIMI
Rizana Nafeek arrived in Saudi Arabia on April 1st 2005 .After a few days she was given a job as housemaid in the household of a Saudi national named Naif Jiziyan Khalaf Al Otaibi who worked in the Saudi Arabian Finance ministry. The home was in a place called Dhawadhimi near Riayadh the capital of the country.

Rizana was resident in the house and directly supervised by the wife of Al Otaibi. Rizana addressed her as "madam".Her duties as housemaid included washing,dusting , cleaning and helping to cook in the kitchen. She also had to double up as a nanny and help to look after the four month old son Kayed bin Nayef bin Dzean Otaibi.Rizana was 23 according to her false passport but was actually a teen ager of 17 with no accredited training or experience in child or infant care. According to UN conventions she was a "child" still as she was under 18.

Initially Rizana was daunted at the prospect of having to tend a baby but then stoically accepted her lot.Despite the hard work young Rizana coped with the challenge of being a housemaid cum nanny to the best of her ability.

Motivated by the burning desire to earn money and uplift her family the seventeen year old girl regarded as a twenty-three year old woman continued to work. Weeks passed without any major mishap. Despite the language barrier the maid from Moothoor established some rapport with the family especially the children.





BOTTLEFEEDING
On May 26th 1985 Mr and Mrs. Al Otaibi went out in the morning leaving the children including the baby behind. Rizana went about her regular chores. Around 12. 30 pm she went to the baby to give him milk by a feeding bottle. Bottlefeeding the baby was one of her regular tasks.
Suddenly something went terribly wrong. Milk started oozing out of the baby's mouth and nose.It's eyes were shut. Young Rizana without any training in child care thought first that the baby was sleeping. After a while she realized something was wrong and tried to wake the child but the baby's eye lids remained shut.

Rizana was upset by this but did not know how to handle the situation. She rubbed the baby on its forehead, cheeks ,throat and chest. She rocked the baby from side to side. The baby's condition did not improve.

A panic stricken Rizana started wailing. The noise brought a few of the other children into the room. They silently watched the maid frantically trying to revive the baby but did not comprehend what exactly had happened. Seeing Rizana rubbing the baby and shaking it the children got the impression that the maid was harming the baby.

It was around 1.30 pm when the mother returned. The children complained to her that the maid was choking the baby. "Madam" rushed into the room and snatched the baby. Within a few minutes the mother realized that her infant son was dead. The inexperienced,innocent Rizana had not realized this and had been doing her best to bring the baby back to normal.

ENRAGED
The enraged mother then sprang upon Rizana and began assaulting her with her fists. She also removed her footwear and began thrashing the hapless maid with them.Rizana fell down and was kicked forcefully. The master of the house also came in and attacked Rizana. Her nose started to bleed.
The Police were then summoned to the house. The police were told that the servant from Sri Lanka had strangled and killed the baby in the presence of the children. Rizana's mistress told the Police that she had scolded the maid that morning for not doing her chores properly. It was alleged that Rizana had killed the baby in revenge for the scolding. Though false and thoroughly implausible the complaint was believed by the Saudi Police.

Sadly for Rizana there was no way in which she could explain what had actually happened. Though she had picked up some Arabic words they were not enough to communicate. Besides she was dazed by the baby's death and shocked by the assault on her. The Saudi police took her into custody and dragged her off to the Police station.

" Rizana Nafeek was deemed guilty of murder by the Police on the strength of the complaint made by the Al Otaibi family. She was ordered to make a confession that she had strangulated the baby to take revenge on her mistress. When Rizana refused and tried to tell her side of the story through the shepherd –interpreter the Police turned brutally nasty "

Rizana had to undergo a bitter,savage ordeal at the Police station. The biggest problem was communication. There was no one to interpret or translate Rizana's version of what had happened to the Police. Likewise there was no one to interprete or translate into Tamil what the Police wanted to convey to Rizana.

SHEPHERD
After a while the Police got hold of someone who knew Tamil. This was a Malayalee from the Kerala state in India. This man was working as a shepherd tending sheep in Saudi Arabia. Rizana was now formally interrogated with the aid of the Malayalee shepherd who claimed to know Tamil.
The "interrogation" was clearly partisan and one-sided. A helpless, poverty stricken young woman from Sri Lanka who had opted to be a domestic servant in Saudi Arabia was looked down upon in the Patriarchal,Feudal society that was Saudi Arabia. Rizana's passport was with her employer and she had virtually no rights .

Rizana being a Muslim was of no account in Saudi Arabia. The Saudis were Arabs and Rizana was a Sri Lankan. The common bond of Islam had no bearing in this. Sri Lankan Muslims are not regarded as Saudi Arabian merely because both people adhere to the Islamic faith.Unfortunately the pseudo-patriots who ask Muslims to "go home" to Saudi Arabia do not or pretend not to understand this .

Rizana Nafeek was deemed guilty of murder by the Police on the strength of the complaint made by the Al Otaibi family. She was ordered to make a confession that she had strangulated the baby to take revenge on her mistress. When Rizana refused and tried to tell her side of the story through the shepherd –interpreter the Police turned brutally nasty.

Some Policemen removed their leather belts and began to lash out at Rizana.She crumbled to the floor writhing in pain.One policeman stood over her and brandished an electric cord. He threatened to kill her through electrocution if she did not sign the confession.

CONFESSION
The shepherd –interpreter also advised her to sign saying she would be killed otherwise. A battered Rizana had no choice other than to comply with the Saudi Police. A statement in Arabic was drafted in the form of a confession by her that she had murdered the child.She was then compelled to sign it.This earned her a reprieve from Police beatings.

The legal system in Saudi Arabia is based on Islamic Sharia law.Sharia Courts in Saudi Arabia have general and residual jurisdiction, i.e., jurisdiction over any case or matter the jurisdiction over which has not been expressly assigned to another tribunal. There are four levels of Sharia courts namely Minor Courts, General Courts, Cassation Court, and the Supreme Judicial Council.

Since the offence allegedly committed by Rizana Nafeek was murder she was taken to the General courts in Dhawadhimi. Before producing her in Courts the Police warned Rizana sternly that she had to repeat her confession in open court and admit to having committed murder. The helpless girl was intimidated into obeying those instructions.

CONVENTIONS
As stated before Rizana was "legally" a child as she was only seventeen. Saudi Arabia had signed UN conventions on rights of Children in 1996. There are also International conventions against child labour. Technically the Saudi authorities were at fault for employing her.But it must be noted that when Saudi Arabia acceded to the CRC in 1996,it was with a general reservation applicable to "all such articles as are in conflict with the provisions of Islamic law."

Being under 18, Rizana was entitled to greater protection and partial immunity under the law.The snag in this case was that Rizana Nafeek in the eyes of Saudi Arabian law was an adult as her passport and birth certificate stated she was born in 1982. By an ironically cruel twist of fate the ruse adopted by the Employment agency operative to falsify her date of birth to make her eligible for a job in Saudi Arabia was now working against her.
Rizana Nafeek was produced and charged with murder in the General Courts at Dhawadhimi on May 27th 2005. Her confession was read out and accepted. Having been threatened by the Police the accused maid "admitted" that she had committed murder.

(TO BE CONTINUED)

DBS Jeyaraj can be reached at djeyaraj2005@yahoo.com
---
Add comment

Comments will be edited (grammar, spelling and slang) and authorized at the discretion of Daily Mirror online. The website also has the right not to publish selected comments.

---