---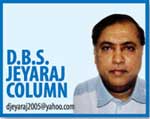 (CONTINUED FROM LAST WEEK)

D.B.S.Jeyaraj
Monday July 2nd 2012 was a red letter day in the life of SubramaniamSivakamy alias Thamilini.The 40 year old former women's division political chief of the Liberation Tigers of Tamil Eelam (LTTE)formally began her period of rehabilitation on that day at the Protective Accommodation and Rehabilitation Centre(PARC)in Poonthottam,Vavuniya.Rehabilitation is a prerequisite to her ultimate release.

The rehabilitation period will be for one year during which time Sivakamy will undergo training in computers.As things stand,Thamilini will be eligible for release from detention in July next year. The term of rehabilitation can be reduced if the ex –LTTE women political commissar conducts herself in a manner that would satisfy the authorities. The term is also likely to be extended further if her behaviour is seen as unsatisfactory.The fact of the matter however is that the senior most ex-woman Tiger in custody has been fortunate in gaining an opportunity placing her on the threshold of freedom instead of being confined to a bleak future of indefinite imprisonment.

Sivakamy had her widowed mother fromKilinochchi visiting her at Poonthottam last week. Thamilini's sister from Norway was allowed to telephone and talk to her.The other sister living in Kilinochchi is slated for a visit later next week. Thamilini also has a younger brother who is married.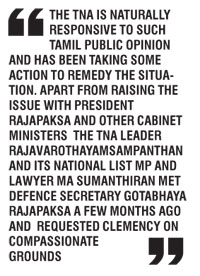 The meeting between Mother and daughter was quite emotional with Sivakamy repeatedly crying "Manniyungo" (forgive me).Earlier when informed over the phone that the daughter was going to be rehabilitated the mother had been speechless and had simply sobbed into the receiver. When Thamiliniwas asked what her future plan was after rehabilitation, she had just said"nothing except to go and be with my mother".

Thamilini was also able to telephone ManjulaPathiraja the lawyer who had been watching her interests in the legal sphere in recent times.Pathiraja who has a penchant for appearing on behalf of the perceived underdog in many cases had been doing so"pro bono" forSivakamy without being paid any fees.AfterThamilini relocated to Poonthottam, her sister in Norway rang the lawyer and asked him what his fee was. Pathiraja told her "No fees".

Thamilini who is reasonably fluent in Sinhala thanked Pathiraja profusely and kept repeating that she would never forget what he had done for her. The lawyer had not merely proffered legal advice and services but had also been providing personal advice and moral support to his client.

Contrary to the image being portrayed currently in the media the " real"Thamilini of today cuts a pathetic figure.She is totally unlike the robust, cheerful uniformed Thamilini depicted in earlier photos. Grown thin and forlorn, Thamilini is virtually half her previous size now.

INCARCERATION
Moreover she was dejected and frustrated during incarceration. The uncertainty of future and prolonged imprisonment had affected her badly and made her sick of life. None of her family members had visited her in Colombo due to fear and financial implications.

What is perhaps not realised by many is the difficulty and trauma undergone by family members from the North or East in visiting their loved ones detained in Colombo, Bogambara, Boosa or Kalutara.Many families cannot afford the expense. There is also the lack of accommodation and the language barrier. Besides some are fearful of trouble befalling them in what is an "unknown strange"place in their perception.

In these circumstances lawyer Pathiraja proved to be a tower of moral strength to an extremely despondent and depressed Thamilini.He cheered her up constantly and urged her not to lose hope saying her troubles would be over soon.Pathiraja was not only Thamilini's counsel but also her unofficial counsellor. It was Pathiraja who advised Thamilini to request a transfer to Poonthottam instead of Welikande as Vavuniya was closer to Kilinochchi where her mother was living. He also told her to seek computer training as part of the rehabilitation process.

It is worth recalling here the circumstances under which ManjulaPathiraja had become Subramaniam Sivakamy alias Thamilini's lawyer. Pathiraja was not Thamilini's lawyer during the early days of incarceration.Initially ,Tamil National Alliance (TNA) parliamentarian from Jaffna, Appathurai Vinayagamurthy, was her lawyer.Vinayagamurthy was aligned to a Non – Governmental Organisation that looked after dètenues requiring legal services.

Since Thamilini was a senior LTTE member her arrest and detention attracted much interest.The LTTE and pro-LTTE elements in the global Tamil Diaspora were enraged. They were angry that Thamilini had surrendred to the armed forces instead of consuming cyanide.A vicious allegation was spread that Thamilini was among a group of ex-LTTE cadres collaborating with the state to identify and ferret out other members of the LTTE avoiding detection and capture. This writer too has written about this in the past. This allegation however was proved untrue.

Against that backdrop ,Thamilini's lawyer of the time, Appathurai Vinayagamurthy suddenly lost "interest" in his client.He simply dropped the case and stopped representing her in court. The reasons for this are unclear but there is conjecture that Vinayagamurthy succumbed to intense pressure from extremist sections of the Diaspora who regarded Thamilini as a traitor.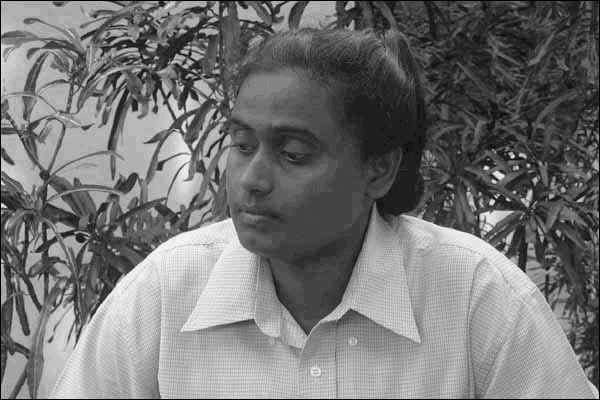 PATHIRAJA
Whatever the reasons may be the abandoning of Thamilini by Vinayagamurthy left the latter lawyerless. It was in this situation that another lawyer Dusith Johndasan was retained by Thamilini's sister in Norway .Johndasan was recommended by a friend from Mannar now living in Norway.Johndasan in turn brought the matter to the notice of fellow lawyer Manjula Pathiraja who agreed to watch Thamilini's interests on compassionate grounds. Thereafter Pathiraja instructed by Johndasan appeared regularly for Thamilini.

As written in these columns last week the saga of Subramaniam Sivakamy alias Thamilini is illustrative of many young Tamil men and women from the North and East of the Island who joined the LTTE with idealistic fervour at an impressionable age.Their dream lies totally shattered while their lives are broken battered. Many of those given the chance to do so are slowly picking up the pieces and trying to forge their lives afresh. Many of these former Tigers now realize the precious nature of life and the necessity of living ,however adverse the prevailing circumstances are.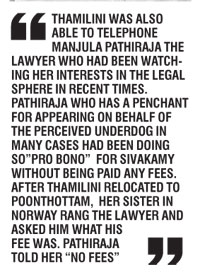 Thamilini was able to secure temporary rehabilitation as opposed to permanent incarceration due to a favourable combination of circumstances. Three separate courses of events converged to some extent in her case. This proved beneficial to her.Her rehabilitation based release is also a harbinger of hope for others of her ilk in similar circumstances.

The first course was in the legal sphere. After being taken into custody at Vavuniya, Thamilini had been brought to Colombo,interrogated and produced at the Chief magistrates courts. Subsequently she was remanded to Welikada pending further investigations. Being a high profile LTTE leader , she was interrogated intensively and separately by different agencies such as the Criminal Investigations Department (CID) Terrorism Investigations Department (TID)National Intelligence and Military Intelligence.

At times she was taken out of Welikada remand for interrogation. Her lawyer Manjula Pathiraja had raised objections to this procedure and the Colombo chief magistrate courts even ordered a probe into this. However it must be said that Thamilini had not been physically ill –treated or subjected to any type of brutality at any stage by any agency. The fact that she was frank and forthcoming in her answers to questions put forth by her interrogators was also a contributory reason for the soft treatment.
After inquiries were concluded the file with her report was sent up to the Attorney –General's department for perusal. If the AG's dept felt there was enough material to file a case or cases against her an indictment would be filed in the High Court. The Attorney –General's dept however kept delaying without arriving at any decision.The "procrastination" by the AG's dept led to many postponements and fresh dates in courts.Thamilini was neither being indicted nor discharged.Police kept on parroting that the AG's dept was examining the file.The AG's dept was constrained by the fact that the defence establishment had not reached a firm decision as to what action was to be adopted in this case concerning a high profile senior leader of the LTTE.

DECISION
This prolonged delay led to her lawyer Manjula Pathiraja pleading before court that the Police or AG's dept should be ordered to arrive at a decision without dragging on matters. In an impassioned address to court Pathiraja pointed out that Sivakamy had been deprived of the chance to lead a normal,free life in the years of her youth due to her involvement with the LTTE. Now she was being denied the chance of a normal life during the remaining years of her life because of imprisonment caused by protracted delay of the Attorney General's department emphasised Pathiraja.

Understanding the plight of Thamilini,Colombo chief magistrate Rashmi Singappuli took an enlightened view of the situation and ordered the Prosecution (in this instance the CID) to expedite proceedings and obtain a firm opinion from the AG's dept as to whether an indictment was going to be filed in the High court or not.

When the case was taken up again the CID informed courts that the AG's dept had indicated that it was not going to file an indictment in the High Court against Thamilini. Instead the Attorney-Generals dept had advised the Police that steps could be taken to provide rehabilitation for Thamilini if she was amenable.This in effect was a prelude to eventual release.
Chief Magistrate Rashmi Singappuli then told Thamilini's lawyer to find out from his client whether she was prepared to undergo rehabilitation. Pathiraja met Thamilini in person and discussed the situation. Realising that obtaining rehabilitation was the passport to ultimate release she consented. Thereafter Pathiraja informed court that Thamilini was willing.The chief magistrate then ordered the transfer of Thamilini from Welikada to Poonthottam in Vavuniya to obtain rehabilitation.

If the legal process conducted openly through legal institutions was the first course of events there were two other courses that were semi –public and not so public. These courses of events played parallel roles that overlapped or converged at times. The culmination of these courses resulted in Thamilini being placed on the rehabilitation road leading to the destination of release.
The second somewhat semi –public course of events was in the political sphere.The Tamil National Alliance(TNA) that obtained 14 seats at the 2010 Parliamentary polls remains the premier political party of the Sri Lankan Tamils. The TNA further confirmed its primary political status by winning the bulk of the local authority polls in the North and East in 2011.

While the antics of of some TNA leaders are deplorable and the overall performance of the party leaves much to be desired ,there is no denying that the TNA in its own way is striving for the betterment of the Tamil people. Some members of the TNA at least are trying to engage in constructive action aimed at alleviating some of the problems faced by the Tamil people.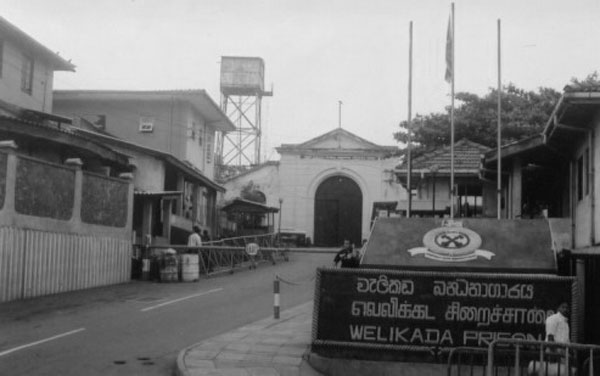 PRISONERS
One of the major issues in this respect is the question of Tamil prisoners and dètenues. Hundreds of Tamils are in prison for offences or suspected offences relating to the LTTE or for suspected links to the Tigers. To the state these are terrorist offences and the imprisoned persons are terrorist convicts or terrorist suspects. In Tamil political discourse they are all political prisoners. This is a variation of the saying "one man's terrorist is another man's freedom fighter".

The figures of such prisoners /dètenues are not static and subject to fluctuation. However a recent count placed it as 328 convicted prisoners and 638 suspect dètenues. What is troubling about this is the fact that more than 10,000 ex-LTTE cadres who surrendered after the LTTE debacle of May 2009 have been released after a process of rehabilitation while these persons languish behind bars still.Thereis a general feeling among most Tamils that these people should be released soon through remission of sentences or amnesty or through expedited due process of law.

The TNA is naturally responsive to such Tamil public opinion and has been taking some action to remedy the situation. Apart from raising the issue with President Rajapaksa and other cabinet ministers the TNA leader Rajavarothayam Sampanthan and its national list MP and lawyer MA Sumanthiran met Defence secretary Gotabhaya Rajapaksa a few months ago and requested clemency on compassionate grounds. The Defence secretary agreed to review the situation positively and arrive at a satisfactory solution.

In a separate development Lawyer-Parliamentarian Sumanthiran who is also the legal and external affairs secretary of the IlankaiThamilArasuKatchi (ITAK) met President Rajapaksa and requested that he use his presidential prerogative and reduce the terms of those convicts serving sentences as in the case of Sarath Fonseka. Sumanthiran suggested that those who had served lengthy prison terms be shown leniency first and submitted a list of twelve names to Presidential secretary Lalith Weeratunga.

Events however took a new turn in May when 234 Tamil dètenues conducted a fast unto death campaign. There had been several token or relay fasts by dètenues in the past on this account but in this instance the matter assumed serious proportions.179 persons in Colombo remand prison, 33 in Vavuniya and 22 in Kalutara had embarked on the hunger strike. The TNA conducted a token fast to express solidarity with the fasting dètenues.

SAMPANTHAN
TNA Parliamentarians Vinayagamurthy, Sumanthiran and Shritharan met with the fasting prisoners and urged them to end it saying Govt had promised action. The hunger strikers refused saying they were tired of receiving false assurances.When the fast was on its sixth day TNA leader Sampanthan made a special statement in Parliament on May 21st spotlighting the fast and requesting speedy action. Cabinet minister and leader of the House NimalSiripala de Silva replied in the affirmative . Thereafter a meeting was held between some members of the TNA and Govt where an assurance was given that the dètenues would be "charged,rehabilitated or released" within one month. The TNA parliamentarians then conveyed this to the fasting prisoners who ended the hunger strike on May 24th on the basis of assurances given.

In that context the authorities now began to explore the possibilities of releasing prisoners after a period of rehabilitation. While the intention was genuine, action on this count however was slow due to the customary lethargy of bureaucracy.TNA MP Sumanthiran discussed the issue again with Defence secretary Gota Rajapaksa at a meeting connected to the Parliamentary Accounts Committee in mid-June.After examining the legal implications of the issue with the TNA parliamentarian the Defence secretary stated that he would recommend the release of dètenues who voluntarily seek rehabilitation.

It was parallel to this course of events that Thamilini's case was being argued in courts.The question of her being released after rehabilitation required an answer at the highest levels because it amounted to a policy decision.The input of the Defence Secretary was needed in this respect.Gota Rajapaksa delved into the issue at a top level conference and arrived at a decision to authorise release after rehabilitation for Thamilini. This decision was conveyed through appropriate channels to the CID who in turn communicated it to courts. Thereafter lawyer Pathiraja met Thamilini on June 20th and obtained her consent. Colombo chief magistrateSingappuli ordered that Thamilini be transferred for rehabilitation on June 22nd.

The decision taken to release Thamilini after rehabilitation was also a positive fore runner of things to come. The Defence Secretary gave his approval to initiate procedures enabling other dètenues like Thamilini who had not been indicted to be released after obtaining rehabilitation. This decision was conveyed to dètenues at various jails through respective superintendents of prisons. Plain sheets of paper were provided for those willing to be rehabilitated to write letters requesting the same. The dètenues grasped the opportunity eagerly. An avalanche of letters ensued.

Sadly the plan to release after rehabilitation has now been put on hold as a result of the Vavuniya jail revolt . It is as if some sinister forces are at work to disrupt the very positive climate created by the Defence secretary's commendable decision and sabotage the release of dètenues scheme in progress.While understanding the necessity for reviewing the situation because of the Vavuniya incident this column urges the continuation of the lenient policy adopted by the Govt. The persons responsible for the Vavuniya incident can be penalized but the others in Vavuniya and elsewhere who had no hand in this matter should not be deprived of the opportunity to be released after rehabilitation.

PROCESS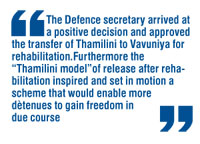 If the public course of events in the legal sphere and the semi-public course of events in the political sphere were crucial in the transfer of Thamilini from Welikada to Vavuniya for rehabilitation,there was also a third not-so public course of events that played a decisive role in the process. Arguably it was this course of events that ultimately paved the way for a positive decision to be taken in this regard.

As stated in these columns last week there was a hitch in releasing Thamilini from custody. The problem was not in Thamilini's past but in what her future course of action would be. What would she do after her release? She had been a high ranking high profile leader of the LTTE. Would she be used by LTTE and pro-LTTE elements among the global Tamil Diaspora to engage in campaigns against the state? Would she go abroad and be utilized as an instrument of propaganda by vested interests abroad? Would the hardliners among Tamil political parties in Sri Lanka entice her into their ranks and raise levels of confrontational politics?

There was also another school of thought within some sections of the CID and TID that wanted Thamilini to be charged in courts and made an example of. Although there was no evidence of her being involved in sheer terrorism like massacring civilians, blowing up buildings and vehicles with people or assassinating political leaders there was the question of command responsibility as she was a high ranking senior leader. Besides to what extent was the LTTE political wing responsible for actions of the military wing?

Another aspect in this matter was that Thamilini as the woman political commissar of the LTTE had incurred the anger of some people affected by her. There were allegations that Thamilini had been very tough and unrelenting in conscripting young girls into the movement particularly during the final phase of the conflict. Officials probing allegations against Thamilini felt that valid charges could be filed against her in four instances.

Despite these counter views the overwhelming opinion in official circles was for Thamilini to be released. But the multi-crore question was how there was an impasse! It was at this juncture that an unexpected intervention came from abroad very much like the device of "Deus ex machina" adopted in ancient Greek dramas.

Thamilini had a special friend in a European country who had formed a sentimental attachment towards her. He and some of his friends formed an ad hoc group that concerned itself with the task of securing Thamilini's release through legitimate channels.

NERDO
Members of this group began interacting with Tamil expatriates involved with the North –Eastern Rehabilitation and Development organization known as the NERDO. As it is well-known the livewire behind the NERDO is former chief of the LTTE Selvarasa Pathmanathan alias KP.

The much maligned KP and NERDO are engaged in constructive activity aimed at alleviating some problems faced by the Tamil people and helping to uplift their lives. Among the quiet achievements of KP is the behind the scenes role he played in helping the widows of former sea Tiger commander Thillaiambalam Sivanesan alias Soosai and ex –political commissar Suppiah Paramu Thamilselvan.

Both SatyadeviSivanesan and SasirekhaThamilselselvan with their children were kept under the protective custody of the armed forces after war ended. Soosai's wife and two children were held at the Trincomalee naval base premises while Thamilselvan's wife and two children were housed within the Army cantonment at Panagoda.

As in the case of Thamilini the authorities were not averse to the idea of releasing the families but were worried that the widows of high profile LTTE leaders could be utilized as propaganda instruments against Sri Lanka after their release. When close relatives of both families approached NERDO for help KP interacted with the officials concerned as well as the detained families. After obtaining guarantees from the concerned people KP was able to facilitate the restricted release of both families. Soosai's family is now living in a Trincomalee suburb while Thamilselvan's family is in Suburban Colombo.

The well-wishers of Thamilini also wanted KP and NERDO to help as in the cases of Satyadevi and Sasirekha. A couple of these well-wishers accompanied a group of NERDO affiliates on a trip to Colombo.Sri Lankan officials acceded to KP's humble request and set up a meeting with Thamilini'swell wishers. All matters were frankly and thoroughly discussed during the course of which officials outlined their concerns and constraints.

FACILITATED
The well-wishers then contacted Thamilini's mother and sister living in Kilinochchi but found that they did not have the capacity to proceed further on this matter. Thereafter the Defence establishment "bent the rules for a good cause" and facilitated an unorthodox meeting between the well-wishers and Thamilini with officials being present.The defence officials also conversed with Thamilini and probed her mindset with pertinent questions.

Though suspicious at the start ,Thamilini mellowed soon when she realized that the meeting was in her interest. She stated very clearly that she had no intention of engaging in any form of political activity in the future. Lamenting the loss of her youthful years as a member of the LTTE and regretting the long years of absence with her mother and the grief she had caused ,Sivakamy kept on saying she only wanted to make up for the lost years by staying with her mother. Thamilini was also ready to undergo rehabilitation.She also signed a document outlining her intentions and expressing willingness to be rehabilitated.

Even the tough defence officials were touched by Thamilini's disclosures and guarantees. Satisfied that she would pose no security threat if released the officials prepared a report and submitted it to the Defence secretary. Gotabaya Rajapaksa perused the reports and recommendations both favourable and adverse and weighed the pros and cons. Finally the Defence secretary arrived at a positive decision and approved the transfer of Thamilini to Vavuniya for rehabilitation.Furthermore the "Thamilini model"of release after rehabilitation inspired and set in motion a scheme that would enable more dètenues to gain freedom in due course.

Once the upper echelons of the Defence ministry took the crucial decision all other details fell in place.The Attorney –General's department informed the CID that it would not file an indictment and recommended rehabilitation. The CID informed courts. The lawyer then obtained Thamilini's formal consent to be rehabilitated. Chief magistrate Rashmi Singappuli then made the transfer order.

This then is the tale of Thamilini's transfer from Welikada to Vavuniya where three courses of events converged to facilitate the release after rehabilitation of Subramaniam Sivakamy the erstwhile woman political commissar of the LTTE.

DBS Jeyaraj can be reached at djeyaraj2005@yahoo.com
---
Add comment

Comments will be edited (grammar, spelling and slang) and authorized at the discretion of Daily Mirror online. The website also has the right not to publish selected comments.

---