---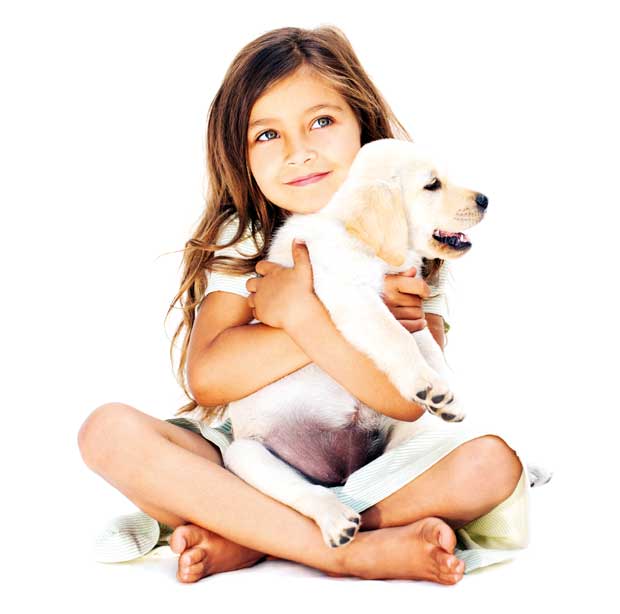 By Janani Angammana
If you have pets in your house, it may seem normal for children to sneeze or cough regularly. When should you start to worry about the possibility of a pet allergy? Are pets harmful to your child's health? This week we shed light on parenting dilemmas in relation to children and pets. Health Capsule spoke to Consultant Paediatrician Dr. Kosala Karunartne on how pet allergies should be dealt with.

What is a pet allergy?
A pet allergy is an immune reaction to animal dander (skin flakes), saliva, urine or faeces. An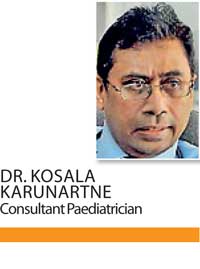 animal's fur itself isn't much of an allergen but it can trap pollen, dust, mould and other allergens. When a child with pet allergy breathes in dander or comes into contact with saliva or droppings, his immune system goes on alert and releases Histamine and over 40 other chemicals to fight the allergen. This reaction can also be defined as an allergic reaction to proteins found in animal's skin cells, saliva or urine. Signs of pet allergy include those common to hay fever, such as sneezing and runny nose. Some people may also experience signs of asthma, such as wheezing and difficulty breathing.

Pet allergy signs and symptoms caused by inflammation of nasal passages include:
Sneezing
Runny nose
Itchy, red or watery eyes
Nasal congestion
Itchy noses roof of mouth and throat
Postnasal drip
Cough
Facial pressure and pain
Frequent awaking
Swollen, bluish skin under eyes
Frequent upward rubbing of the nose
If the pet allergy contributes to asthma, you may also experience:
Difficulty breathing
Chest tightness or pain
Audible whistling or wheezing
Sound of exhaling
Trouble sleeping, caused by shortness of breath or coughing
Skin symptoms
Some people with pet allergy may also experience skin symptoms, a pattern known as allergic dermatitis.
Raised, red patches on skin
Eczema
Itchy skin

Dr. Karunaratne explained, "Children really love animals and being with animals is important to their development. If the child is allergic to pets, try to keep him away from animals as much as you can. Separating pets from children could benefit the physical well-being of the child but might have an impact if he/she has developed a bond with the animal. Take precautions such as limiting the time your child comes into contact with the pet. Making sure pets are kept away from the bedroom is another important safety precaution. Children love having pets on carpets and nowadays many keep their pets in bedrooms and even on beds, cuddling and hugging them.

If you can limit these habits, pet allergies can be reduced in kids. Other than cats and dogs, kids could also be allergic to birds, rabbits and rodents."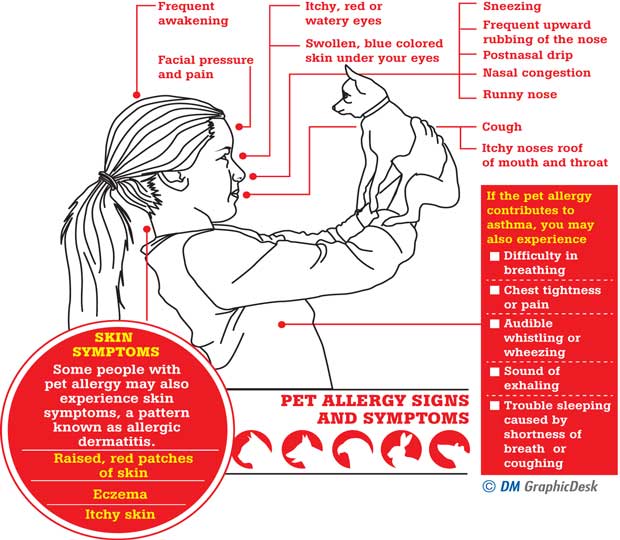 How do allergies develop?
Allergies occur when the immune system reacts to a foreign substance such as pollen, mould or pet dander. The immune system produces proteins known as antibodies. These antibodies protect the body from unwanted invaders that could make you sick or cause an infection. When you have allergies, your immune system creates antibodies that identify your particular allergen as something harmful, even though it isn't.

When you inhale the allergen or come into contact with it, your immune system responds and produces an inflammatory response in your nasal passages or lungs. Prolonged or regular exposure to the allergen can cause the ongoing airway inflammation associated with asthma.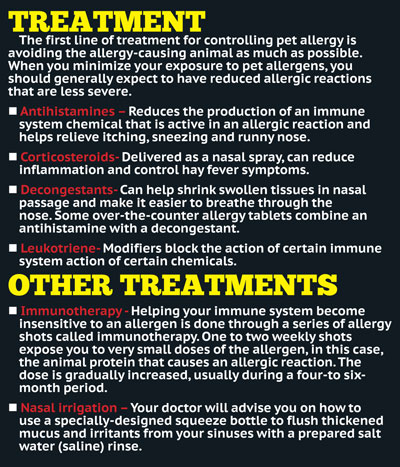 Cats and Dogs
Allergen from cats and dogs are found in their shed skin cells as well as in their saliva, urine and fur. Dander is a particular problem because it is very small and can remain airborne for long periods of time, with the slightest bit of air circulation. It also accumulates on upholstered furniture and sticks to clothes. Pet saliva can stick to carpets, bedding, furniture and clothing. Dried saliva can become airborne.

Rodents and Rabbits
Pet rodents include mice, gerbils, hamsters and guinea pigs. Allergens from rodents are usually present in their fur, dander, saliva and urine. Dust from the litter or sawdust in the bottom of the cages may contribute to airborne allergens from rodents.

Birds
This allergy is usually associated with the skin, feathers or excrement of the bird. The body's immune system produces immunoglobulin and histamine in response to contact with the allergen. The specific symptoms that can result vary considerably.
Diagnosing a pet allergy
Sinus infections- Ongoing (chronic) inflammation of tissues in the nasal passages caused by pet allergy can obstruct the hollow cavities connected to your nasal passages (sinuses). These obstructions can make you more likely to develop bacterial infections of the sinuses, such as sinusitis.

Asthma- People with asthma and pet allergy often have difficulty managing asthma symptoms. They may be at risk of asthma attacks that require immediate medical treatment or emergency care.
Your doctor may suspect a pet allergy based on symptoms, an examination of your nose and responses to his or her questions. He or she may use a lit instrument to look at the condition of the lining of your nose. If you have a pet allergy, the lining of the nasal passage may be swollen or appear pale or bluish.
Allergy skin test- In these tests, tiny amounts of purified allergen extracts, including those with animal proteins, is pricked from the skin's surface.
Blood test- Screens the blood for specific allergies, looks for antibodies to various common allergens, including various animals.