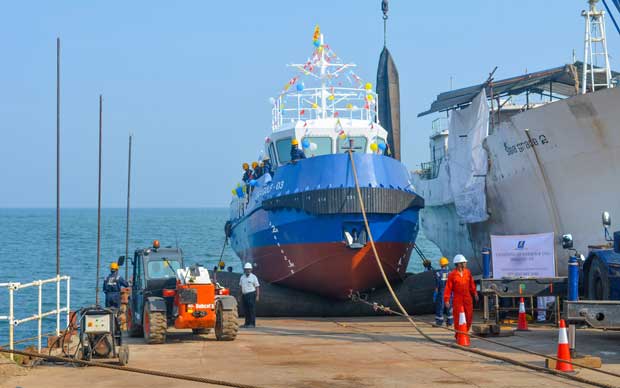 Walkers Colombo Shipyard (Private) Limited, a subsidiary of MTD Walkers PLC, has successfully completed the construction of its fourth vessel, a 10-tonne bollard pull tug 'Sea Gulf 3'.

The tug designed and constructed entirely by the in-house team of highly skilled naval architects and engineers under the guidance of Walkers Colombo Shipyard (Pvt.) Limited Managing Director Dr. Sarath Obeysekera was launched recently at the group's shipyard in the Mutwal harbour.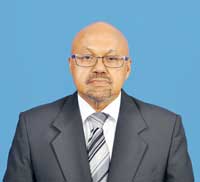 Built under the supervision of the Indian Register of Shipping (IRS CLASS), the certifying authority for vessels, the tug is of 16 meters in length, five metres width and 1.65 meters of draft. It is capable of handling 10 tonnes of bollard pull and equipped with two 400 horsepower Cummins engines and a Cummins generator.

"We hope to build more vessels, including to clients in the Maldives and at close proximity to Sri Lankan waters," said Dr. Obeysekera adding that the shipyard has built four state-of-the-art vessels in the recent past.

Walkers Colombo Shipyard designed and built a 1,000 tonne barge 'Sea Gulf 1', which was used by Walkers Piling (Pvt.) Limited to carry out Sri Lanka's first sea piling project in the harbour basin to install a 1,250 tonne capacity ship lift. Further, similar capacity harbour tug 'Sea Gulf 2' and a landing craft 'Fat Lady' were also designed and built recently by Walkers
Colombo Shipyard.

The shipyard will also undertake repair work of vessels up to 65 meters long and maximum weight of
1200 tonnes.

MTD Walkers PLC, Sri Lanka's only fully-integrated engineering solutions provider, expanded its presence in the marine engineering sector in 2015 by unveiling its plans to open a state-of-the-art ship repair facility in Mutwal harbour. The 3.5-acre facility upon completion will be equipped with a ship lift and transfer system, which will be commissioned by mid-February 2018.