---

Immunization is the most efficient public health intervention in reducing the burden of infectious diseases. A person is made immune or resistant to an infectious disease thereby stimulating the body's own immune system to safeguard the individual from subsequent diseases or infections. This process which is usually done in the form of a vaccine, administered to the body has been able to ward-off at least 2-3 million deaths each year in the world. As a result this process has been protecting children from various deadly infectious diseases like Diphtheria, Tetanus, Polio, Measles etc. over years.

According to World Health Organization (WHO), immunization is considered to be one of the most cost-effective and easily accessible mode of health strategies and is described as an investment made on health of our future generations. This is said not only due to its efficiency, but the capacity to cater precisely to identified target groups.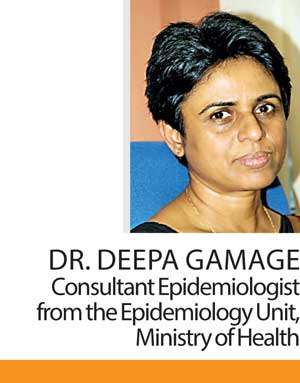 In an attempt to bring the history of immunization in Sri Lanka, National Immunization Schedule and immunization services available under the spotlight, we are having this discussion with Dr. Deepa Gamage, Consultant Epidemiologist from the Epidemiology Unit, Ministry of Health.

Importance of vaccination
"Most medicines or drugs are given to cure an illness or to relieve its symptoms. Vaccines are different and they are administered to prevent illnesses or a disease occurring agent. Vaccination in the process of immunization, to develop immunity in the body, helps children to stay healthy, which leads to a healthy nation in future. In fact vaccination ensures healthy lives and promotes well-being" explains Dr. Gamage.

She further mentioned that, the health, safety and well-being of children are of primary concern in protecting children and creating a healthy nation in future. Goal 3 of the Sustainable Development Goals (SDG) targets the ensuring of healthy lives and promotes well-being for everybody by 2030. We expect to end preventable deaths of newborns and children under 5 years of age. All countries aim at reducing neonatal mortality to at least as low as 12 per 1000 live births and under-5 year child mortality to at least as low as 25 per 1000 live births. In achieving these targets and creating a healthy nation, vaccination plays an important role in preventing preventable deaths in children," the doctor said.

History of vaccination
"The vaccination process dates far back to more than 200 years ago where country physician Dr. Edward Jenner observed an induced protection for Small Pox. He had done experiments on inoculating Vaccinia Virus (cowpox) to a young boy which helped him protect himself against Smallpox. In the year 1798, Dr. Edward Jenner first demonstrated the vaccination which offered protection against Smallpox. As a result, over the 18th and 19th centuries, the Smallpox vaccine was implemented successfully on a global scale and the medical authorities succeeded in eradicating Smallpox by the year 1977" says Dr. Gamage.

Elaborating more on the scenario, she mentioned that the introduction of routine immunization has generally reduced the incidence of several vaccine preventable diseases through the past few decades. Similar success in disease reduction has been demonstrated by immunization programmes in many other countries.

The World Health Organization's (WHO) Expanded Programme on Immunization (EPI), with assistance from the United Nations Children's Fund (UNICEF) and other donors such as Global Alliance for Vaccines and Immunization (GAVI), has made great strides in extending these benefits to developing countries. Immunizations permitted the global eradication of smallpox, and may do the same for Poliomyelitis, Neonatal tetanus, Diphtheria, Measles and some other vaccine preventable diseases.

According to her, natural immunity occurs when a child is exposed to a disease and becomes infected, but the risks of death and long-term disabilities are much greater with natural infections. Immunization can prevent infectious diseases that could kill, harm or expose children to long-term disabilities. Without vaccines, children are at risk of becoming seriously ill, suffering from disability and even death from diseases like polio, measles, diphtheria, tetanus and whooping cough. Immunizing a child not only protects that particular child, but also other children and adults by increasing the level of immunity in the general population and minimizing the spread of infection in the community (herd protection).

History of Immunization in Sri Lanka
The history of immunization in Sri Lanka date back to the 19th century. The law relating to compulsory vaccination (against smallpox) is referred to in the Vaccination Ordinance of 1886.

The Expanded Programme on Immunization (EPI) established in 1978, has continued to make excellent progress over the past two decades, most notably in terms of achieving high immunization coverage and disease control. Important milestones of immunization in Sri Lanka are given below.

"Sri Lanka has tremendous achievements in the National Immunization Programme in maintaining very high vaccination coverage in all districts during past 2 decades resulted in very low numbers in vaccine preventable diseases. The last Smallpox case in Sri Lanka was in 1972, Diphtheria case in 1991, Neonatal tetanus case in 2009 and Poliomyelitis case in 1993. Congenital Rubella Syndrome, Rubella and Measles are currently at a near elimination stage. And Whooping cough and other vaccine preventable diseases are maintaining at a very low status while maintaining satisfactory communicable disease notifications and surveillance in the country. In fact, it is very important to vaccinate all the children and every child born to prevent these deadly infectious diseases as it can rise its' heads at any time if not properly immunize children" says Dr. Gamage.

She further mentioned that in the context of high international travel and tourism there are high chances of importation of diseases and transmission of communicable diseases making exposure to these deadly diseases. Raising a child's immunity with proper vaccination at the correct age at the correct time is important, not only to protect that particular child, but to prevent community transmission and protect other children and adults in the community too. The National Immunization Policy has addressed this issue of vaccinating a child as a right of the child and also a right of the others in protecting others.

National Immunization Programme is implemented by the Epidemiology Unit, Ministry of Health through maternal and child health (MCH) clinics, conducted by the field level staff of Medical Officer of Health (MOH) and through immunization clinics in all major hospitals. Medical Officers of Health, Public Health Nursing Sisters, Public Health Midwives and Public Health Inspectors are working as a team in immunizing all the children in their respective geographic areas. "The National Centre of the Immunization Programme, Epidemiology Unit is responsible and ensures to get down quality vaccines which are WHO pre-qualified, registered vaccines which are maintained at proper temperature from the manufacture until administration to the child. All vaccine storing centres are equipped with standard special vaccine storing refrigerators (Ice Lined Refrigerators) and proper monitoring of the cold chain maintenance are done with standard newer temperature monitoring equipment (Fridge tags, log tags and Freeze tags)" explains Dr. Gamage.

Elucidating that these standards are regularly monitored by the district level Regional Epidemiologists and also by the national level authorities she says that the efforts are done to ensure maintaining the quality and potency of vaccines for adequate immune development on vaccination in each child. "All children are screened by a medical doctor for the eligibility of the vaccination and they are ready with emergency kits and plan for early attention if there is any possible adverse event. In comparison to some developing countries, Sri Lanka provides equal access to quality immunization services for all children in an equitable manner, ensuring high standards," she said.

World Health Organization has declared an Immunization week from April 24-30 to mark the 'World Immunization Week (WIW)'. The main aim is to highlight the importance of collective action to provide immunization and make everybody have access to such medication. This is done to ensure the protection of every person from vaccine-preventable diseases through the National Immunization Programme.