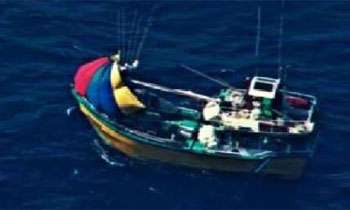 A US Navy P-8A Poseidon maritime patrol aircraft has located the missing Sri Lankan fishing vessel yesterday after joining search efforts at the request of the Sri Lankan Navy, the US Embassy said today.
The vessel was located by an aircraft from the "Pelicans" of Patrol Squadron (VP) 45 assigned to US 7th Fleet and flew out of Naval Support Facility Diego Garcia.
Commander Mark E. Zematis, Commander Patrol Squadron 45, said, "As we continue to explore the operational reach and agility of the P-8A Poseidon, the trust and relationships we build with our multi-national partners becomes more apparent in such a complex and broad Indo-Pacific region,"
He said the positive relationship between Sri Lanka and the US allowed the aircrew and maintenance team to effectively launch and assist with the recovery of the missing fishermen.
The 40-foot vessel and crew of six went missing on July 8 near Dondra Head. A Sri Lankan Navy ship is headed to the location provided by the P-8A along with a commercial vessel nearby to render assistance.
The P-8A is the world's newest, most capable maritime patrol and reconnaissance aircraft and operates regularly throughout the Indo-Pacific in support of regional security and stability.
Seventh Fleet's area of operation encompasses 36 maritime countries and 50 percent of the world's population with between 50 to 70 US ships and submarines, 140 aircraft and approximately 20,000 Sailors in the 7th Fleet.