---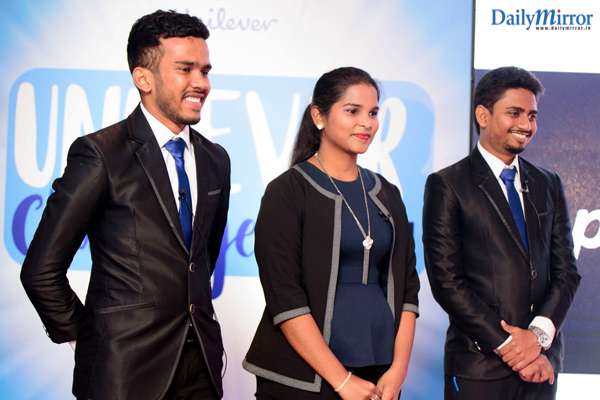 (From left) Umendra Abeynayake, Nayomi Fernando and Madusha De Silva of Team Innovints from the University of Sri Jayewardenapura who were the winners of Unilever Challenge 2017
Madusha De Silva, Nayomi Fernando and Umendra Abeynayake of team Innovints from the University of Sri Jayewardenapura were adjudged winners of Unilever Challenge 2017 held recently in Colombo. Emerging atop 3 teams from 10 universities post 3 intense rounds, they will be representing Sri Lanka at the Unilever's Future Leaders' League to be held in London in April.
The event, which is powered by Rin Brightness Academy, saw team Innovints winning the judges over with their ingenious approach to solving the cases posed to them and developing a marketing strategy for Rin with a focus on universities.
Helping them prepare themselves to face competitors from around the world, the team will be mentored by senior representatives from Unilever Sri Lanka. The winners of last year's Unilever Challenge, Haritha Jayasinghe from the University of Moratuwa and Pulasthi Ekanayake from Achievers Business Academy, who had gone on to become the runners up of the Future Leaders' League 2017 in London, too will be helping them gear up for this prestigious global competition.
"Year after year, undergraduate students from some of Sri Lanka's most esteemed higher education institutions demonstrate their ingenuity and passion at the Unilever Challenge and secure a place for themselves in the Unilever Future Leaders' League. The caliber of the contestants continues to serve as a reflection of the exceptional pool of talent available in the country, something we at Unilever Sri Lanka have always believed in," said Sumeet Verma, Director – Human Resources and Corporate Relations, Unilever Sri Lanka. "Wishing all the participants the very best, we look forward to seeing the winning team do us proud at the Future Leaders' League in London."
The Future Leaders' League is a dynamic marketing competition, where aspiring young brand managers get the opportunity to compete against likeminded future leaders from over 30 countries. Through hands-on experience, interacting with world-class experts and discovering Unilever from the inside these future leaders will be exposed to new and innovative ways of thinking, develop professional skills and gain invaluable knowledge of how a leading business works. The Unilever Challenge is the local leg of Unilever's Future Leaders' League. It is a unique competition that tests the ability of undergraduate students to conceive and implement a brand strategy for world renowned brands.