---
An imperative in Predictive Astrology


"The twelve Bhavas or Houses represent the entire history of the individual. By a scrutiny of the planetary combinations and aspects of the twelve Houses, the whole life of a person can be predicted," says Indian Jyotish Gurudev
Dr. B.V. Raman.

Importance of Karakatva of Bhavas and planets
A thorough understanding of the Karakatva or signification of each Bhava and that of each planet is a prerequisite for deciphering the destiny of a person from his Natal Chart.

Prasna Marga, a treatise on Horary Astrology provides us with details pertaining to significations of the planets.

Planets representing Mother and father
According to great Indian sage Varahamihira's Brihat Jataka for a person born during the daytime, Sun represents father and Venus mother. For a person born in the night, Saturn denotes father, Moon the mother
For those born during the day Saturn represents paternal uncles, Moon maternal uncles.

Again, Saturn in an odd sign represents for those born during the daytime, father, those born in the night time paternal uncles.

Moon in an even sign represents in the daytime births mother, night time births
maternal uncles.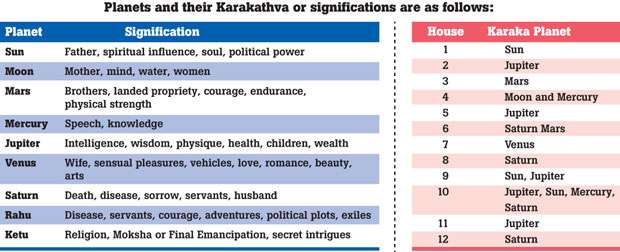 Maternal aunts and uncles
Sun in odd signs represents in daytime births paternal uncle, in night time births father.

Moon in even signs represents in the daytime births maternal aunt and in night time births mother.
From above it is seen paternal uncles and maternal uncles are to be determined in the reverse order depending on the odd or the even sign Sun and Moon occupy.

Therefore, we cannot always refer to Sun as Pitrukaraka or Significator for father.

Planets while functioning as Karakas for certain persons related to the native, signify certain qualities and things and become Karakas for Bhavas as well.

Conjunction of Bhava lord and Karaka planet
According to principles enunciated in the classical Astrological work Bhavarta Ratnakara, a Bhava becomes strong when the Bhava lord and the Karaka planet are in conjunction.

Let us take the case of a person born in Taurus Lagna. The lord of his 7th House is Mars. The Karaka for wife is Venus. If Mars and Venus are in conjunction, the native would have a happy married life.