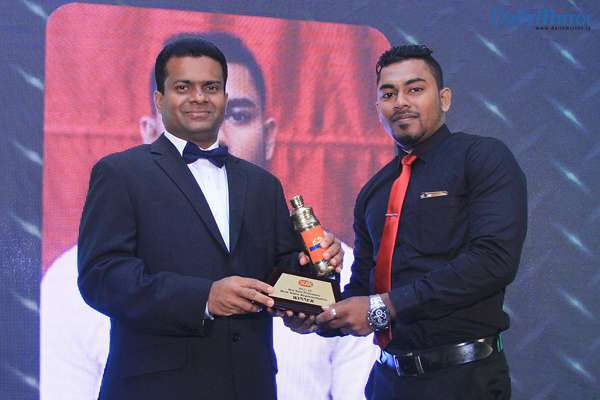 "Best Sales Representative Winner Roshan Rangama, Receiving the Gold Award from Mr. Mangala Perera Executive Director- Internal Trading of C.W.Mackie PLC at Scan Annual Sales Conference 2017/18 held at Hotel Club Palm Bay - Marawilla".
The FMCG arm of C. W. Mackie PLC, Scan Products Division successfully completed their Annual Sales Conference 2018, which was recently held at Club Palm Bay Hotel, Marawila. The residential sales conference was organized to achieve three main strategic objectives; to provide a training opportunity, award and recognize the achievers, and preview the objectives of the next financial year.
The most momentous and colourful item in the agenda of the entire event was the award ceremony where the Scan field sales force recognized sales professionals who delivered outstanding performances and awarded them with Star Awards. The high performing field sales force members who went beyond the boundaries of assigned targets during last financial year were awarded at that glamorous evening, encouraging others to endeavor to be proud recipients of the awards in years to come. The Gold Award was won by Mr. Roshan Rangama, while the Silver Award was received by Mr. Gihan Adikari and Mr. Krishan Nalinda was awarded the Bronze Award.
The training sessions were organized under two different scopes, namely technical sales training and motivational and leadership training, which were well conducted by two reputed corporate trainers. The whole objective of organizing these tailor-made training sessions was to uplift the skills and groom the sales team to take on challenges and future leadership opportunities.
The Annual Sales Conference was the platform to unveil the Business Plan for the new financial year 2018/19, preview next year's objectives and set up the strategies to achieve the set targets. 'One Goal >> One Force' was declared as the theme of this year.
Commenting on this occasion Mr. Mangala Perera, Executive Director of C.W. Mackie PLC, said, "The Fast Moving Consumer Goods sector of the group has expanded their activities during the last 3 to 5 years, and is in the process of further expanding by way of adding new products and line extensions. Though 2017/18 was a challenging year mainly due to external macroeconomic influences, due to the commitment and dedication of front liners in the field, the Company was able to achieve its pre-set top line targets. Therefore, at this occasion, I recognize with much appreciation the contribution from our field sales force. This Sales Conference is where we recognize their accomplishments during the past Financial Year, review the progress and identify their draw backs and address them and finally plan how to succeed and achieve the common corporate goals".