---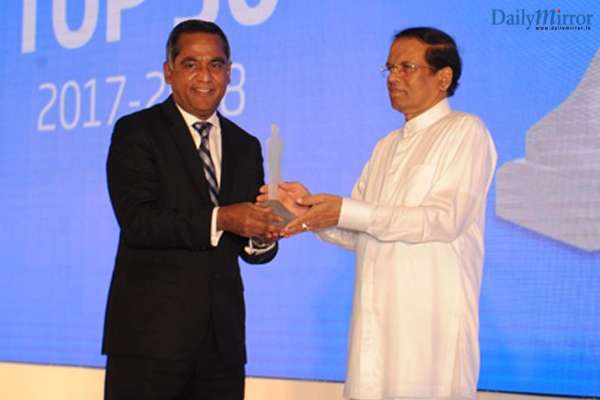 Mr. Nanda Fernando, Managing Director, Sampath Bank PLC accepting the Business Today Top 30 Award from H.E. President Maithripala Sirisena
Sampath Bank was recognizedas one of Sri Lanka's best performing companies at the Business Today Top 30 Awards 2017 – 2018 held at the Shangri-La Hotel, Colombo recently.Moving up two places from last year, the Bank has been ranked fifth in this year's listings.
Mr. Nanda Fernando, Managing Director, Sampath Bank PLC accepted the award on behalf of the Bank from H.E. President Maithripala Sirisenaamidsta distinguished audience of leadersfrom across the public and private sectors.
Currently in their 21st year, the awardsrate companies listed on the Colombo Stock Exchange based on their business performance during a given financial year. The listing is compiled with the assistance of KPMG Sri Lanka using publicly available, published information.
"It is our honor to stand tall alongside some of Sri Lanka's most iconic enterprises in the Business Today TOP 30 rankings for 2017 - 2018. We are especially proud of moving up two places to be ranked fifth this year. This wouldn't have been possible without the guidance and support of our Chairman, Board of Directors and shareholders and the steadfast commitment of the over 4,000 members of Team Sampath. I would like to take this opportunity to thank and congratulate them," said Mr. Nanda Fernando, Managing Director, Sampath Bank PLC.
This year's ranking is a reflection of Sampath Bank's outstanding performance during the financial year 2017. The Bank had registered an impressive 32.7% growth in its After-TaxProfits (PAT), which stood at Rs.12.1 billion as at 31st December 2017.
"Our focus on customer centric innovation has always been a key driver of our performance, allowing us to grow consistently, irrespective of the wider macro-economic conditions.We look forward to continuing to innovate to deliver greater value and convenience to our customers' lives as we move forward along our growth trajectory,"Mr. Fernando added.
Earlier this year, Sampath Bank was recognized as Sri Lanka's 'Best Retail Bank' and 'Best Commercial Bank' for the 5th consecutive year at the prestigious World Finance Banking Awards. The Bank was also included to the MSCI Frontier Market 100 Index, becoming the only Sri Lankan company in the Index with a weightage of 0.36%.
Established in 1987, Sampath Bank has become a state-of-the-art financial institution that continues to be a market leader today thanks to its constant innovation and customer focused approach to business. Its unique tailor-made solutions, superior services and convenience of access have allowed Sampath Bank to further differentiate itself from the competition and stand out as the bank of choice for many in Sri Lanka.