---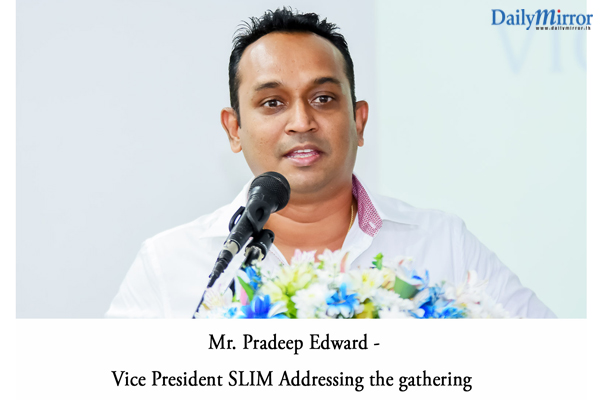 •
SLIM is the first and longest-serving CIM study centre in Sri Lanka accredited by CIM UK
The Sri Lanka Institute of Marketing (SLIM), the renowned National Marketing body and premier Institute for Marketing education in Sri Lanka, is dedicated to constantly furthering the boundaries of Marketing philosophy in the country.
The Chartered Institute of Marketing (CIM) is one of the world's largest and most prestigious professional body for Marketing. CIM Sri Lanka is widely recognised for its excellence in the Marketing profession in Sri Lanka through Marketing education and development.
SLIM, the first and longest-serving CIM study centre in the country accredited by CIM UK, recently held an Inauguration ceremony for the first CIM intake for 2018. The event was held on a large scale at the SLIM headquarters, which is also referred to as 'SLIM HOME'. SLIM has consistently emphasized the importance of quality Marketing education and its students continue to showcase talent, skills, ability and knowledge gained through education at SLIM.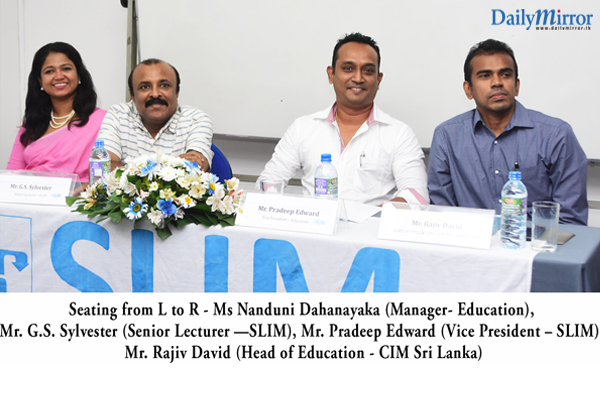 The event was held amidst a large gathering, to build awareness about the CIM coaching sessions at SLIM and to take the students through the process from beginner to advanced levels of the CIM educational path. To further enrich the product, SLIM will also provide a book for each stage for reference purposes. Those present at the occasion were Advanced Level students, young executives interested in a Marketing career and even non-Marketers, who showed an interest in the field of Marketing.
The Inauguration was presided over by the senior management from both institutes. Mr Pradeep Edward, Vice President - SLIM and CEO of Lanka Hospitals Diagnostics (Pvt) Ltd, said that SLIM, as the National Body for Marketing has its core value of being responsible for the qualifications granted by the Institute. "SLIM has a wide range of members, consisting of top level Marketing professionals. We also have networking events providing an opportunity for students who are SLIM student members to participate and gain exposure from senior marketers in the field, build a network with, and be inspired by them. There are numerous benefits of being a student at SLIM and they will get to participate at Student Committees in National level events such as the SLIM-NASCO, Brand Excellence, Effie Awards, People's Awards, Marketers' Night and SLIM Toastmasters. In addition, they will be given the utmost support and commitment by our staff to ensure that they achieve their educational goals," he stated.
Mr Rajiv David, Head of Education - CIM Sri Lanka and Senior Manager of Marketing at Union Bank of Colombo PLC also participated at the inaugural ceremony.
Mr G.S. Sylvester, Senior Lecturer at SLIM, Marketing Consultant, Trainer, Tutor, and Chairman of the SLIM Education Reforms Committee, briefed the gathering on the programme structure. "SLIM is the only centre where a student has obtained 100 marks for a subject, which is a remarkable feat. We as lecturers at SLIM are deeply committed towards enhancing and continuously developing skills and the knowledge of students with real life examples and experiences in both local and global context," he expressed.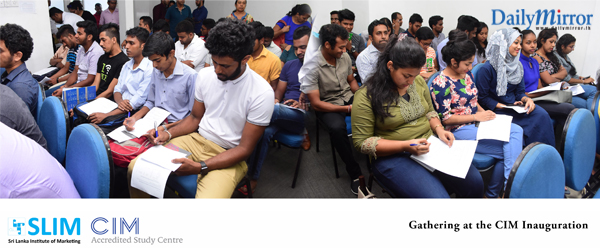 Mr Sanath Senanayake, CEO/Executive Director of SLIM noted, "The core object of SLIM is to add value to the marketing fraternity and elevate the status of marketing in the country. It is with this objective that SLIM provides quality coaching, study material and maintains a very high standard in tutoring, enabling students to deliver exceptional results in the past as well as in future too.".